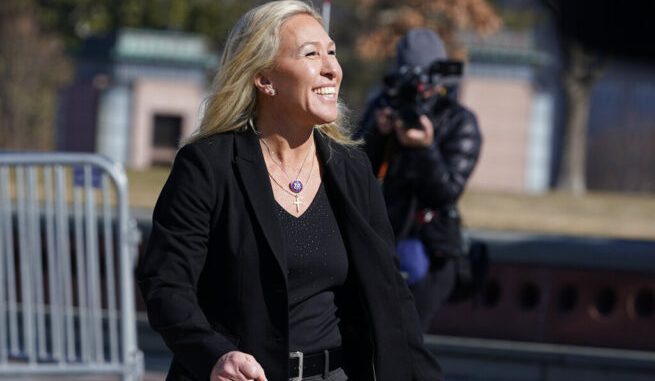 OAN Newsroom
UPDATED 12:50 PM PT – Friday, February 5, 2021
Congresswoman Marjorie Taylor Greene (R-Ga.) fired back on Twitter one day after Congress voted to remove her from her committee assignments. In a tweet Friday, Greene said she "woke up laughing about what a bunch of morons the Democrats are for giving someone like me free time."
I woke up early this morning literally laughing thinking about what a bunch of morons the Democrats (+11) are for giving some one like me free time.

In this Democrat tyrannical government, Conservative Republicans have no say on committees anyway.

Oh this is going to be fun!

— Marjorie Taylor Greene 🇺🇸 (@mtgreenee) February 5, 2021
She added, "in this tyrannical Democrat government, conservative Republicans have no say on committees anyway." At a press conference later in the day, Greene said she felt "freed" after Thursday's vote. During her conference, Greene said:
"So going forward, I've been freed. Because you know what's happening on these committees? We have a basically tyrannically-controlled government right now. The Democrats. We've got Joe Biden writing executive order after executive order…doing whatever he wants up there in the White House. We have Nancy Pelosi leading the Democrats in Congress to do whatever they want. They don't care what Republicans have to say. They don't care about what our districts and our voters have to say."
Marjorie Taylor Greene says "free speech matters…and they stripped my district of their voice." https://t.co/VlT7z8drtO pic.twitter.com/Z18PwYFsrw

— Newsmax (@newsmax) February 5, 2021
In a follow-up, the congresswoman said she will continue to push for pro-life and pro-America policies in Congress. She also plans on traveling the country to speak with more Americans about these issues.