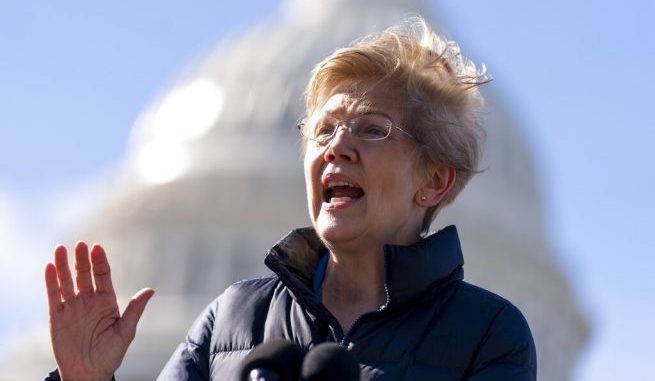 OAN Newsroom
UPDATED 10:35 AM PT – Thursday, February 4, 2021
Sen. Elizabeth Warren (D-Mass.) is wasting no time using her new powers as part of the Finance Committee to implement a fiscal policy she has been promising progressives for years.
It's time for a wealth tax in America.

Here's how it works: pic.twitter.com/kK6zNRjKn3

— Elizabeth Warren (@ewarren) February 3, 2021
In an interview on Wednesday, former White House economic adviser Larry Kudlow said raising taxes during an economic downturn would have calamitous affects on a slowly recovering economy.
The most recent report from the Bureau of Labor Statistics showed unemployment has finally stabilized at 6.7 percent and the number of people who are unemployed remained unchanged at just over 10 million.
However, Warren has promised her proposed wealth tax won't affect "the little guy." She has argued that no one needs a billion dollars. The Democrat has invigorated her base by spinning tales of taking away yachts and sports cars.
"And all I'm saying is for the 'bazillionaires' — how about we include not just the real estate, but also the stock portfolio, the diamonds, the Rembrandt and the yacht?" she asked hypothetically.
In reality, should her wealth tax go through, Warren won't be repossessing fast cars and mega mansions. Instead, she'll be starting a domino affect that will hit those that have been hurt the most. The tax would target people with roughly $50 million in assets and would rise for people with more than a billion dollars.
According to the Foundation for Economic Education, the wealth of the people Warren is gunning for is made up mostly of business assets or investments, which Kudlow' called "the working person's best friend."
Over his 30 in the field of economics, Kudlow has referred to himself as a "Reagan supply-sider." He naturally pointed out that by imposing policies that will target investments, the effect on all Americans will be severe.
With investments shrinking, businesses will struggle and will have to make cuts in order to stay operational either by paying fewer people or by paying everyone less. However, Warren knows this.
"You say the economy is going to recover," she stated. "It's going to take jobs in order for that to happen, so what I want to know is are you going to require companies that received money from this half a trillion dollar slush fund to have to keep people on payroll?"
Warren's proposal, which is what she calls the "ultra-millionaire tax," is eerily similar to the same one she proposed during the election before the American economy took one of the hardest hits since the Great Depression.
Kudlow wasn't surprised by her proposal, however, he sent a warning in his finishing statement. "The far left loves this stuff…class warfare and all the rest of it," he stated. "Guess what? It doesn't work."