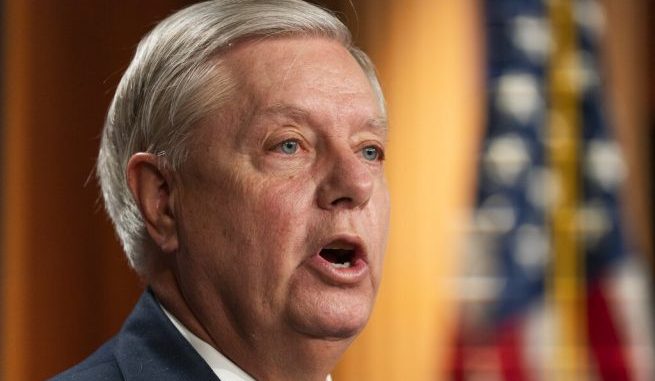 OAN Newsroom
UPDATED 4:28 PM PT – Friday, January 15, 2021
Sen. Lindsey Graham (R-S.C.) released documents and transcripts surrounding the Senate's investigation into the Russia probe. On Friday, Graham dropped information calling the investigation "one of the most incompetent and corrupt in the history of the FBI and DOJ."
The documents he released showed interviews conducted by the Senate Judiciary Committee with the FBI and DOJ between March and October of 2020. After interviewing the two departments, Graham said he considers operation Crossfire Hurricane, which was the codename behind the Russia collusion investigation, "a massive system failure."
Graham also called on officials to better regulate political investigations.
The release came ahead of an expected larger release of all FBI documents surrounding the Russia probe by President Trump. Journalist John Solomon announced the news during his podcast "John Soloman Reports" on Thursday. He said the most important revelation will be around Christopher Steele.
"The entire narrative leaked to the news media driven to FBI, that Donald Trump was colluding with Russia was done specifically to neutralize Hillary Clinton's concern that her email scandal had not yet gone away," Soloman said.
Solomon added the documents will also show holes in the Democrats 2018 impeachment trial of President Trump, particularly when it came to Fiona Hill.
Hill testified as a witness before Congress during impeachment proceedings, but Soloman said in the years leading up to impeachment she also was working behind the scenes directly with Steele, hooking him up with sources which drove the false collusion narrative and were the basis of the infamous Steele dossier.
Additionally, Solomon claimed, if nothing else, the documents would prove without a doubt that intelligence officials were spying on the Trump campaign.
"Stefan Halper is the guy that put a wire on recorded people like George Papadopolous and Carter Page. Well, his tasking orders are, I believe, going to be declassified," Solomon said. "I believe when people read these tasking orders, the facts will show the FBI intended to spy on the Trump campaign."
The wave of documents will undoubtedly take days, if not weeks, to go through, but Soloman said it'll finally provide "the facts that were denied from us for years" and "the opportunity to get to the bottom of the Russia collusion hoax one last time."