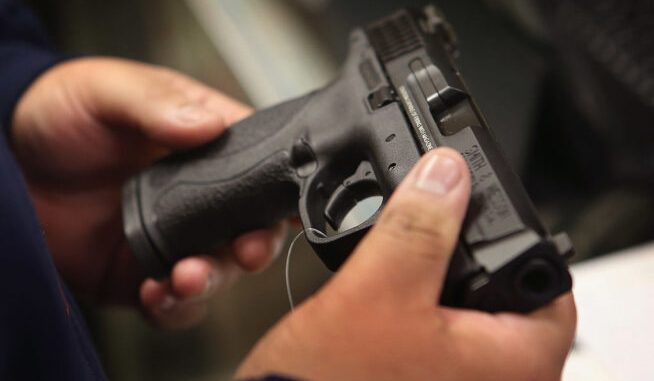 OAN Newsroom
UPDATED 2:15 PM PT – Friday, January 8, 2021
It's been one year since Colorado implemented red flag laws. A recent report shows the impact it has already had on residents.
According to the report released on Thursday, over 100 red flag protection orders were filed in 2020.
Police reportedly removed firearms from the homes of 66 people who were flagged by family members, legal guardians or law enforcement officers. Under the new law, a judge can approve firearm confiscation if there is a belief a person could be a threat to themselves or others.
One of the most recent instances of the order in action is in the case of Bryce Shelby, a man accused of making threats against the state's attorney general and several other government officials.
Denver Police alleged Shelby's behavior was escalating and through the red flag laws, they forced him to surrender his two rifles. Though the state's attorney general chose not to press charges against Shelby, he will not regain possession of his firearms for a total of 364 days.
Several of the year's emergency Extreme Risk Protection Orders were placed against law enforcement, but were shut down by the courts.
For example, early on in 2020, an inmate tried to claim Weld County Sheriff Steve Reams was a threat. The order request was sent to a judge who quickly threw it out for lack of evidence, which allowed some to say the law worked. However, Reams argues it showed the law can be used frivolously.
"I think people who support the red flag law will say, 'Well you weren't actually red-flagged. The system worked, the judge didn't go to a hearing,'" Reams said. "My problem is that this inmate was able to at least petition the courts and provide that he has standing."
Reams is among those who are the most skeptical of the new law due to its vague guidelines, which allow weapons to be confiscated even without criminal charges.
"But to go in and conduct a search warrant on someone's home based on the word of a third party, I think that's a huge overreach of the Constitution," Reams stated. "And that's where I'd have to draw the line."
There has been a lot of debate over the constitutionality of red flag laws. The President has said he supports them at the federal level, but gun advocates argue the orders contradict the Second Amendment.
Andrew Napolitano, who served as a New Jersey Superior Court judge from 1987 to 1995,  said: "The concept of a red flag law violates both the presumption of innocence and the due process requirement of proof of criminal behavior before liberty can be infringed."
Heading into the New Year with an incoming Democrat majority in the new Congress, many proponents of the right to bear arms worry about future restrictive gun laws.