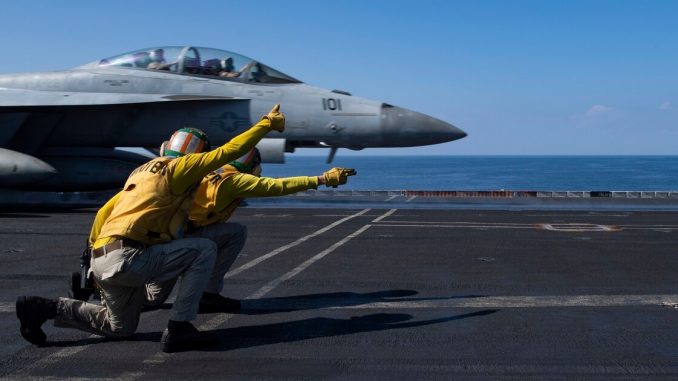 In the midst of a tumultuous week for the sailors of the aircraft carrier Nimitz and its strike group, the Navy's top civilian leader said Tuesday that he doesn't know when those sailors will get back from an extended deployment that's about to enter its eighth month.
The Associated Press and other outlets reported Thursday that the carrier would leave the Middle East amid heightened tensions with Iran.
But on Sunday, Acting Defense Secretary Christopher Miller reversed course, saying in a brief statement that Nimitz would remain on station in the Middle Eastern waters of U.S. Central Command "due to recent threats issued by Iranian leaders against President Trump and other U.S. government officials."
Sunday also marked the one-year anniversary of the U.S. drone assassination of Maj. Gen. Qassim Suleimani, the near-mythical head of the Iranian Islamic Revolutionary Guard Corps' Quds Force
The men and women assigned to the Nimitz, living out this geopolitical tit-for-tat, left San Diego in June and are days away from entering month eight of their deployment.
During a call with reporters Tuesday, Navy Secretary Kenneth Braithwaite said he did not know when the Nimitz sailors will be coming home.
"Currently, we have indications that the situation there warrants their extension, and I am not sure how long that extension will last," Braithwaite said in a recording of the roundtable obtained by Navy Times.
By giving us your email, you are opting in to the Navy Times Daily News Roundup.
"You and I both know that I can't tell you whether it's hours, days, weeks, months," he added, noting that "sailors understand" that they serve at the pleasure "of the nation's interest."
Which other carrier could even relieve Nimitz in the near term remains unclear.
The only other carrier currently deployed is Theodore Roosevelt, which began a double-pump deployment last month and is currently steaming in the waters of the Japan-based U.S. 7th Fleet.
Braithwaite said the Nimitz group's deployment is "one of the top issues we are discussing here at the Pentagon each and every day."
"We are committed to bringing that strike group, all the ships, sailors and embarked Marines home as quickly as we can," he said.
Braithwaite, who commissioned as an aviator in the 1980s and transitioned to public affairs a few years later before entering the corporate world and serving as President Trump's ambassador to Norway, suggested he knew what the rank-and-file aboard Nimitz are going through.
"Having been a person onboard a ship that's been extended on deployment is a very hard thing to have to fight through, because of course you're looking forward to coming home," he said. "But when we put that uniform on, we know that these sacrifices are possibly things that we may have to make."
"And so every sailor in that strike group, of course, may … feel impacts of this personally, as well as their families," Braithwaite added. "But … they're committed to the mission."