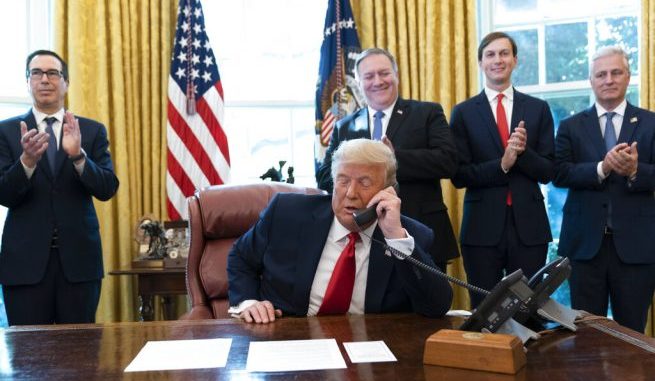 OAN Newsroom
UPDATED 9:08 AM PT – Tuesday, December 22, 2020
Conservative student activists received a surprise call from a very special guest at their annual meeting. Turning Point USA's Student Action Summit, which is held in Florida, launched on Saturday. The summit played host to a long list of prominent figures representing various sections of the conservative movement.
Sens. Rand Paul (R-Ky.) and Ted Cruz (R-Texas) spoke while members of the President's inner circle, including White House Press Secretary Kayleigh McEnany, Roger Stone and Donald Trump Jr. were also in attendance. President Trump usually attends the student summit every year, but could not be there in person for this year's event.
While speaking to the approximately 4,000 attendees, Turning Point founder Charlie Kirk was suddenly interrupted by a member of his team who informed him a surprise guest was on the line. As Kirk answered the phone, the President's voice was heard followed by a roar from the crowd.
During the ensuing conversation, Kirk assured the President the young conservatives in attendance stand behind him in his fight for election integrity. This prompted President Trump to reiterate he's working to safeguard American democracy.
Got a very special call today at @TPUSA's Student Action Summit from @realDonaldTrump

Young Americans have your back 100% Mr. President! pic.twitter.com/dS7qDMJ8Xc

— Charlie Kirk (@charliekirk11) December 21, 2020
The current fight for the White House, President Trump added, is a battle for America itself and a battle in need of brave conservatives willing to stand for the values on which the country was founded.
"We are fighting really for the country because we won this election in a landslide,"he stated. "The problem is we need a party that will fight, we have some great congressmen and women and we've got some great fighters."
The President finished by noting the Justice Department and others in government need to step up and help investigate all the instances of voter fraud.