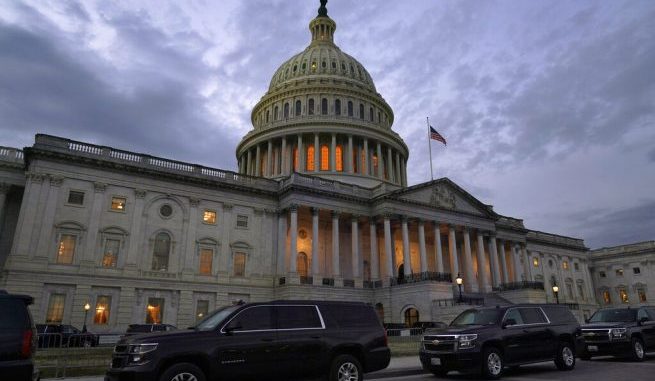 OAN Newsroom
UPDATED 6:24 AM PT – Tuesday, December 22, 2020
As 2020 comes to a close, lawmakers have pushed a massive bipartisan bill to keep the government running and help Americans amid the coronavirus pandemic. Minutes before midnight Monday, the Senate announced the measure had passed by a significant margin.
"Are there any senators in the chamber wishing to vote or wishing to change their vote?" asked Sen. Ron Johnson (R-Wis.). "If not, the Yeas are 91, the Nays are seven. The 60 vote threshold having been achieved, the motion to concur is agreed to."
The bill includes a $1.4 trillion provision to fund the entire 2021 fiscal year and provide $900 billion in coronavirus relief. Before the legislation sailed through the Senate, the House convened and passed the bill with ease.
Lawmakers on both sides of the aisle in both chambers had been caught in a drawn out battle for months, which centered around coronavirus relief measures. This resulted in a compromise finalized at the last possible minute.
"This bill is enormous. It's not perfect, but it reflects a fair compromise that includes funding for many important priorities at home and abroad," stated Rep. Hal Rogers (R-Ky.). "And vital assistance for all those negatively impacted by the coronavirus pandemic."
Negotiations between Speaker of the House Nancy Pelosi, Senate Majority Leader Mitch McConnell and Treasury Secretary Steve Mnuchin were often put on hold with political agendas getting in the way of putting forth a practical policy.
BREAKING: The Senate just passed another major bipartisan, COVID-19 relief package. The American people can rest assured that more help is on the way, immediately.

— Leader McConnell (@senatemajldr) December 22, 2020
Despite the stumbling blocks, the bill ultimately received strong bipartisan support with lawmakers recognizing it would provide direct support to Americans still struggling to get by.
"We have big wins in this package to help us defeat the virus once and for all with billions more in funding for vaccines, testing, distribution and more," said Rep. Brady. "This bipartisan solution is so important to the American people, this is a strong and needed package."
The final bill, which followed a series of continuing resolutions, is largest in congressional history with 5,593 pages aimed at shepherding America through the next stage of the pandemic and into the New Year.