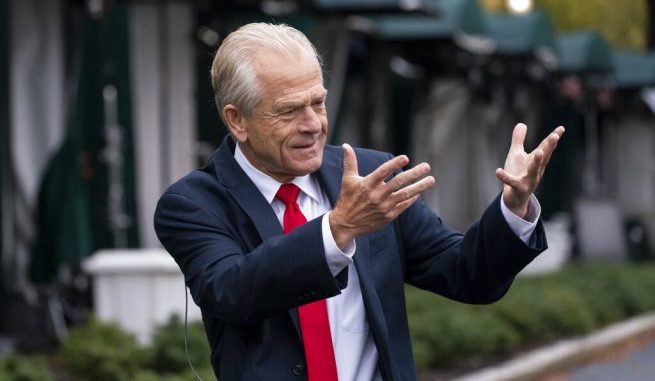 OAN Newsroom
UPDATED 10:59 AM PT – Friday, December 18, 2020
"Theft by a thousand cuts," That's how a top White House adviser described fraud in the 2020 election.
In a press conference Thursday, Peter Navarro presented a report that detailed how the election was rigged against President Trump in Arizona, Georgia, Michigan, Nevada, Pennsylvania and Wisconsin.
Preview Navarro Report here.
Critical to our Democracy to have healthy debate/dispute about fairness/integrity of 2020 election. Download Navarro Report at @BannonWarRoom , @NatPulse STOP social media censoring. We are NOT Communist China. https://t.co/sYAE62ze3b

— Peter Navarro (@RealPNavarro) December 17, 2020
The report pointed to at least 1 million potentially fraudulent ballots for candidate Joe Biden. Experts found the President's lead in those states was "erased" overnight due to an inflow of mail-in ballots of unknown origin.
"That seemed to be insurmountable leads in Georgia, Pennsylvania, Michigan and Wisconsin," Navarro noted. "Georgia was over 350,000 votes, Pennsylvania over half a million, Michigan almost 300,000 and Wisconsin over 100,000." He continued stating, "and what you saw beginning kind of in the dead of night, these votes counts that started to come in over time turned the Trump red tide into Biden blue. "
Furthermore, electronic manipulation of votes took place in three states, shifting tens-of-thousands of real Trump votes to Biden. In the meantime, different states used combinations of corruption to solicit more votes for Biden.
Additionally, the report cited hard evidence for crimes and corrupt acts such as ballot mishandling, voting machine irregularities, equal protection clause violations and outright voter fraud that specifically occurred in states in which Democrats knew they needed to win.
"You had some cases where the turnout was over 100%," said Navarro. "You've got evidence of votes switching, you've got a case where statistically improbable vote totals based on party registration."
Many mass voter fraud preventative measures were apparently skipped, such as signature match-check abuse, unauthorized ballot handling and lack of voter ID checks.
"Ballots that came in without outer envelopes, so there's no way you can do the signature match yet a lot of these were entered into the tabulation," said the White House adviser. "Pennsylvania kind of jumps out at you at that, ballots accepted without postmarks"
In a public address, Navarro criticized mainstream media journalists for blatant rejection of voter fraud evidence despite heavy coverage of alleged Russian interference in the 2016 election following President Trump's defeat of Hillary Clinton.
"There's a tremendous attempt right now to suppress anybody or anything that calls these results into question, and I think that's a very dangerous thing," he stated.
The expert warned that by next month, if corruption in the 2020 election is not properly addressed, U.S. election integrity will be undermined for future generations.
His remarks came after President Trump spoke about election integrity in a recent public address and suggested in the future, votes for U.S. elections should be cast on traditional paper ballots in-person as this could prevent reoccurrence of mass mail-in ballot fraud as well as electronic glitches from foreign-owned Dominion software.
"The Democrat Party's relentless push to print and mail out tens-of-millions of ballots sent to unknown recipients with virtually no safeguards of any kind, this allowed fraud and abuse to occur," stated the President.
The expert's voter fraud report, "The Immaculate Deception," added to a growing stack of data, which suggests the 2020 election has been stolen. Despite this, the mainstream media has been eerily silent in stark contrast to magnification of Russian collusion concerns.