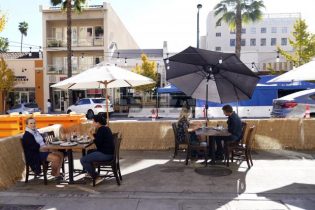 OAN Newsroom
UPDATED 2:07 PM PT – Wednesday, December 16, 2020
The Trump family has been condemning "blanket lockdowns," in response to a heated exchange between a Southern California restaurant owner and health inspectors. On Tuesday, Ivanka and Donald Trump Jr. reacted to a video that has since gone viral.
"I followed the rules, I continue to follow the rules and you guys still — time after time — are giving me citations, telling me I have to close my business," said restaurant owner Anton Van Happen.
In a tweet Tuesday morning, Donald Jr. slammed politicians and the mainstream media for supporting lockdowns that are "actively destroying lives." He noted, "they don't care because their paychecks aren't on the line."
We need more of this or the politicians will never ever stop their economy destroying power-grab. Lockdowns aren't based in science. The politicians & media hacks still supporting them are actively destroying lives, but they don't care because their paychecks aren't on the line. https://t.co/4tK47baJac

— Donald Trump Jr. (@DonaldJTrumpJr) December 15, 2020
Shortly after, Ivanka echoed her older brother's sentiments in her own tweet.
These blanket lockdowns are not grounded in science. These arbitrary rules imposed by callous politicians are destroying lives. It is just wrong for small business owners to have fight so hard to keep their American dream alive. https://t.co/Z8O1m5fpp0

— Ivanka Trump (@IvankaTrump) December 15, 2020
In the viral video, Van Happen, the owner of the restaurant Nick the Greek in Ventura, was seen confronting health officials who had issued him a citation for violating the state's stay-at home order. This order forced restaurants to switch from dine-in services to take-out and delivery only.
"What about my employees, are you going to pay my rent?" Van Happen could be heard asking.
Van Happen helped lead the push to continue outdoor dining for restaurants in the area. Fellow restaurant owners said they made the decision to continue outdoor dining because there's "no science" behind the ban. Meanwhile, a bipartisan group of California lawmakers have called on Gov. Gavin Newsom (D-Calif.) to allow restaurants to reopen their doors.
The post Ivanka, Donald Trump Jr. slam COVID-19 lockdowns first appeared on One America News Network.