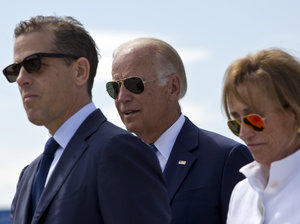 OAN Newsroom
UPDATED 11:24 AM PT – Monday, December 14, 2020
The mainstream media is being exposed for attempting to kill the New York Post's article on Hunter Biden. Following the release of the article, mainstream news outlets began pumping out stories alleging the documents used in the article were apart of a Russian disinformation campaign or just not credible.
The majority of the media's reporting on Hunter Biden's shady business dealings attempted to dismiss the allegations. At the same time, Big Tech media companies like Twitter and Facebook tried to limit the breadth of the stories reach online. Twitter went as far as to suspend the New York Post's account, which is one of America's most read newspapers.
This week, the nation learned that, in fact, there is an active investigation underway into Hunter Biden's taxes. While little is known about the case, the subject matter of the investigation, which has been going on since 2018, could prove some of the facts in the New York Post's article to be valid.
Before the election in October, social media giants justified their censorship of the paper by claiming the information was not from a credible source.
Even the Department of Justice has come under fire for a perceived lack of transparency regarding the investigations with officials stating they are hesitant to release information on high profile investigations, which can effect an election.
Yet, David Harsanyi, a senior political writer at the National Review, stated in an op-ed last week that the Justice Department's job is to investigate criminal cases, not to consider politics before disclosing information to the public.
Harsanyi also added, he's convinced journalists at mainstream media outlets knew the case mattered for the election and for that reason avoided covering it while Big Tech and the DOJ did the same.