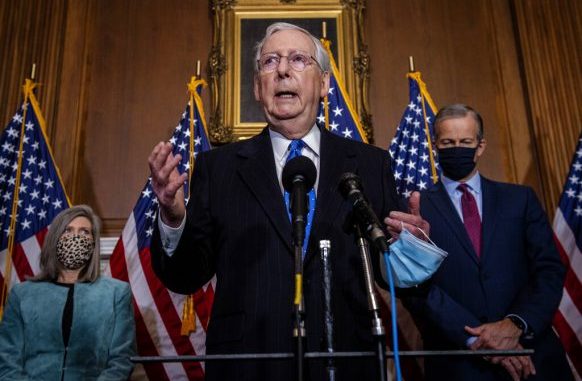 OAN Newsroom
UPDATED 11:41 AM PT – Thursday, December 3, 2020
Sen. Mitch McConnell (R-Ky.) said he's hopeful Congress can strike a coronavirus stimulus bill before the end of the year. On Thursday, the Senate majority leader said a compromise on a roughly $500 billion bipartisan package is within reach.
Democrats backed his proposal ,which includes Paycheck Protection Program loan funding, vaccine distribution funding and education funding.
Republicans have spent months proposing more COVID relief. Yesterday I put forward yet another proposal that would invest many billions in workers, laid-off Americans, small businesses, & vaccine distribution.

I hope Democrats will finally let us get a bipartisan outcome soon.

— Leader McConnell (@senatemajldr) December 2, 2020
However, McConnell's provision regarding COVID-19 liability protection for businesses and universities appears to be one sticking point for Democrats. House Speaker Nancy Pelosi and Senate Minority Leader Chuck Schumer have, instead, pushed for aid to state and local governments as well as supplemental federal unemployment payments.
"Now it's been heartening to see a few hopeful signs in the past few days," McConnell stated. "After months of arbitrary attachment to sky-high dollar amounts the Speaker of the House claimed were essential, that it would be an insult to settle for a nickel less…those baseless claims have suddenly evaporated."
Meanwhile, Treasury Secretary Steven Mnuchin said this week President Trump is ready to sign McConnell's relief bill.