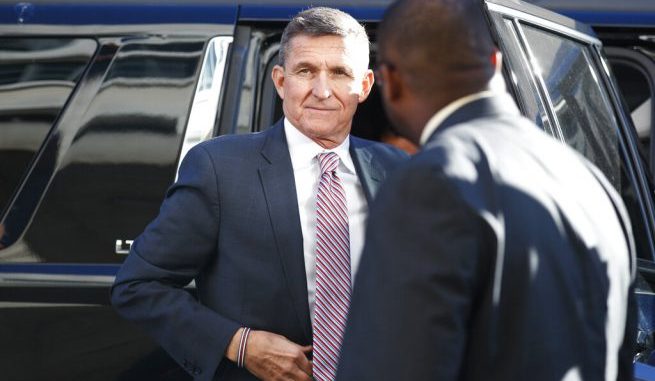 OAN Newsroom
UPDATED 9:13 AM PT – Thursday, November 26, 2020
President Trump formally pardoned former national security adviser General President Trump. The President took to Twitter Wednesday to announce the move. He went on to congratulate Flynn while wishing him and his family a happy Thanksgiving.
It is my Great Honor to announce that General Michael T. Flynn has been granted a Full Pardon. Congratulations to @GenFlynn and his wonderful family, I know you will now have a truly fantastic Thanksgiving!

— Donald J. Trump (@realDonaldTrump) November 25, 2020
"What General Flynn went through is so unfair and he's still going through it," stated President Trump."If he were a Democrat, that would've never happened number one."
This came after Flynn pleaded guilty to lying to the FBI during the investigation into Russian meddling in the 2016 presidential election. Attorneys for Flynn argued, however, that he was entrapped by so-called "Obama holdovers" who allegedly coerced him into lying and set him up for prosecution.
The President's pardon, which spares Flynn the possibility of any prison sentence, won praise from several Republicans, including House Minority Leader Kevin McCarthy and Rep. Lee Zeldin who both said it was "100-percent the right call."
What happened to @GenFlynn was a national disgrace. No American should ever be targeted for simply belonging to a certain political party.

President @realDonaldTrump is right to pardon the respected three-star general.

— Kevin McCarthy (@GOPLeader) November 25, 2020
Additionally, House Minority Whip Steve Scalise said in a statement that Flynn's prosecution was politically motivated and should never have happened. Scalise argued further, stating that Democrats and the FBI destroyed Flynn's life to try to attack the President.