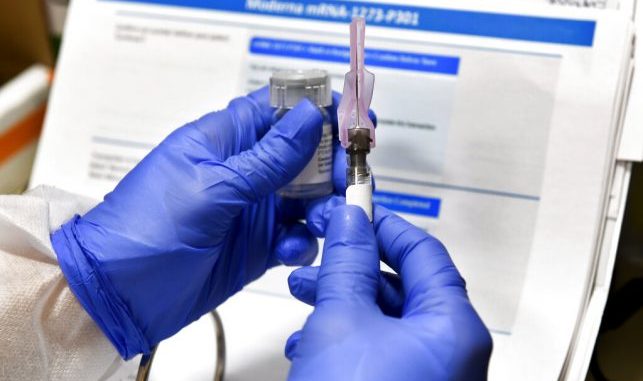 OAN Newsroom
UPDATED 11:13 AM PT – Sunday, November 22, 2020
Operation Warp Speed chief adviser Dr. Monsef Slaoui said once a coronavirus vaccine has Emergency Use Authorization, it could be in the public's hands in as short as a day.
In an interview Sunday, Dr. Slaoui stated once authorization has been approved, the Advisory Committee on Immunization Practices and the CDC will issue recommendations on who will be vaccinated first. That information, he said, will be determined by each state's Department of Health, noting it could be frontline health care workers first or possibly those at very high risk.
"We cannot move the vaccine doses prior to the Emergency Use Authorization," Dr. Slaoui explained. "Within 24-hours of the approval, the vaccine will be moving and located in the areas where each state will have told us where they want the vaccine doses."
An FDA advisory committee is slated to meet on December 10. Dr. Slaoui said if vaccines are shipped within 24-hours of approval, vaccinations could begin within the second day of approval. 20 million vaccinations are expected in the month of December with 30 million per month after that.
Last week, both Pfizer and Moderna reported early data showing their vaccines were more than 90-percent effective without serious side effects. Pfizer's CEO recently said the company plans on shipping its vaccine within "a couple of hours" of receiving clearance.
While speaking on whether or not children will be able to be vaccinated in a separate interview, Dr. Slaoui noted the lowest age Pfizer tested was between 12 and 14-years-old. However, the vaccine may only be approved for those 18 and above. He went on to say plans are on the table to begin running trials on younger adolescents, toddlers and infants on an expedited basis.
"I would expect to start immunizing them somewhere in the second quarter of this year, at least the toddlers," he stated. "Probably the infants is going to take longer, maybe towards the end of the year."
When asked when Americans can expect to go back to "normal," Dr. Slaoui said around 70-percent of the population being immunized will allow for "true herd immunity." He said this is likely to happen by May.
Dr. Slaoui voiced his concern over public skepticism about the safety of a vaccine simply because of the political context surrounding the development of the medicine.
"I really hope and look forward to seeing that the level of negative perception of the vaccine decreases and people's acceptance increases," he stated. "That's going to be critical to help us, most people need to be immunized before we can go back to a normal life."
Texas is already preparing to distribute the coming vaccine as the Texas Department of Health Services identified 20 locations where a vaccine will be sent once it reaches FDA approval. Pfizer has already chosen Texas as one of the first states to test its distribution.