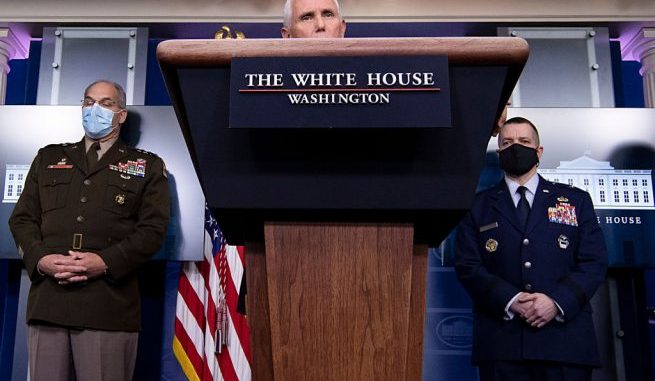 OAN Newsroom
UPDATED 6:55 PM PT – Thursday, November 19, 2020
Vice President Mike Pence and the coronavirus task force stand ready to confront the recent spike of coronavirus infections sweeping the nation.
In a press briefing Thursday, Pence offered his condolences to the U.S. citizens who have been directly impacted by the virus. Whether they have lost a loved one or are facing economic hardship as a result of the pandemic, the vice president expressed his sympathy.
From the time President @realDonaldTrump announced Operation Warp Speed, General Perna and his team have been working around the clock to build a distribution plan. We're proud to report, 100 MILLION Moderna vaccine kits are already assembled and ready to go. pic.twitter.com/8oKbXdcVKa

— Mike Pence (@Mike_Pence) November 19, 2020
Pence also touted the success of recent vaccine trials. He went on to praise the great strides the administration took to get much needed personal protective equipment as well as highlighted Operation Warp Speed.
America has never been more prepared to combat this virus. With the cooperation of the American people, our incredible health care workers and first responders, the extraordinary partnership with state and local officials, and with God's help, We Will Get Through This Together. pic.twitter.com/Y6WE0V1MiX

— Mike Pence (@Mike_Pence) November 19, 2020
The vice president then assured the American people there will be light in this time of darkness.