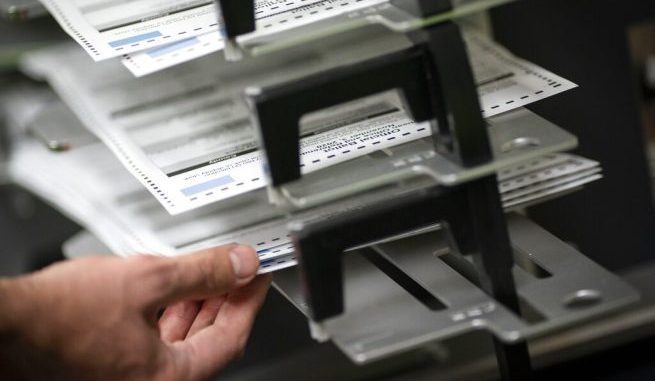 OAN Newsroom
UPDATED 9:54 AM PT – Thursday, November 19, 2020
The Trump campaign has continued its work to combat election fraud in the 2020 presidential election. It recently asked election officials in the state of Wisconsin to recount ballots in two counties after claiming multiple voting irregularities.
In a court filing announced Wednesday, the President's re-election campaign called for recounts in Milwaukee and Dane County while arguing election officials directed ballot counters to illegally alter unfinished absentee ballots.
Trump Campaign Files a Petition for Recount in Two Wisconsin Counties https://t.co/vhKJcOZcKw

— Trump War Room – Text TRUMP to 88022 (@TrumpWarRoom) November 18, 2020
Following the filing, the Wisconsin Elections Commission held an emergency meeting in order to discuss the process of the recount. In order to fulfill the recount request and comply with election regulations, the Trump campaign paid $3 million to election officials in the Badger State.
"So what we have here is a situation where he was required to make an estimated payment and file a timely petition," explained Ann Jacobs of the Wisconsin Election Commission. "He has done both of those things..therefore, an order will be issued mandating that the recount take place."
Under Wisconsin state law, voters must show a valid identification while voting either by mail or in person with incomplete absentee ballots not counted.
"If there were absentee ballots that were rejected, they're going to review those too to see if they were incorrectly rejected," stated Megan Wolfe of the Wisconsin Election Commission. "They are also going to review all of those envelopes to see if they missed any that should have been rejected and, again, they are going to evaluate any of those irregularities."
The state posted its completed canvass totals Tuesday, which showed the President behind by a small margin. The potential recount must be finished before election results can be certified December 1.
"What will happen next is the order will go out, it will go out tomorrow, and it must be completed under state law in 13 days," said Jacobs. "It can be completed faster, but it cannot go longer than 13 days. "
Officials are expected to approve and order the recount Thursday.