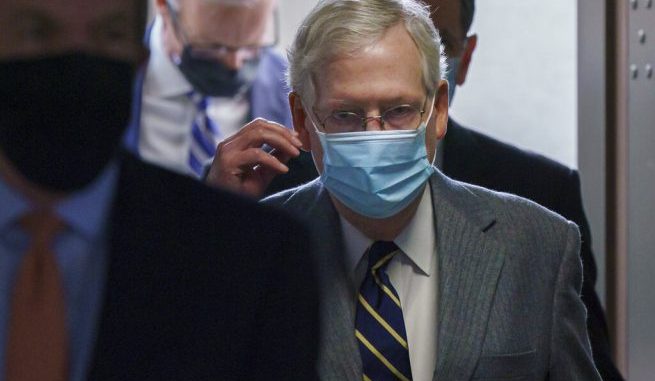 OAN Newsroom
UPDATED 9:35 AM PT – Wednesday, November 18, 2020
Republicans in Washington are working to bring coronavirus aid to the American people despite receiving push-back from Democrats in Congress.
While speaking to reporters on Tuesday, Senate Majority Leader Mitch McConnell urged both chambers to coordinate a relief package while agreeing on top line figures.
McConnell said the GOP's targeted proposal for a half a trillion dollar coronavirus bill isn't nothing. The relief package would include bills that tackle top priorities, including veteran care, securing the southern border as well as supporting public health during the pandemic.
"I share the view of my colleagues that have been expressed here is that a more narrowly targeted proposal, such as we laid out in September and October here in the Senate, deals with the actual problem," he stated.
Additionally, the Republican bill would mainly be targeted towards schools, health care providers and manufacturing personal protective equipment.
While taking to Twitter, the Senate majority leader went on to further slam his Democrat colleagues by suggesting the House's 'HEROES Act' wouldn't bring relief to lower and middle class families.
House Democrats' so-called "HEROES Act" is so unserious that it was condemned by the Speaker's own moderate Democrats the instant she put it out.
 
Huge tax cuts for rich people in blue states, but no second round of the Paycheck Protection Program? Those are their priorities?

— Leader McConnell (@senatemajldr) November 17, 2020
"So to sum it up, I'm open to a targeted bill roughly of the amount that we recommended, a half a trillion dollars, which is not nothing," he stated. "…Narrowly targeted at schools, at health care providers, at PPP and, of course, liability reform to keep America from being engaged in an epidemic of lawsuits on the heels of the pandemic."
McConnell wants to see Congress reach a deal on the 2021 fiscal plan this week in hopes of avoiding a government shutdown.