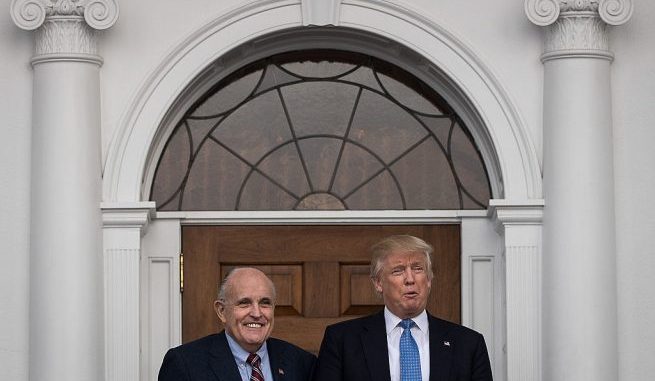 OAN Newsroom
UPDATED 1:45 PM PT – Sunday, November 8, 2020
Rudy Giuliani is ramping up the legal battle against suspected voter fraud committed by the Democrat party.
On Sunday, President Trump's attorney said the Trump campaign will likely file four or five more lawsuits by the end of the week. These would call into question allegations of fraudulent ballots, removals of poll-watchers and ballot dumping; all of which could have given an unfair advantage to Joe Biden.
Biden has declared himself president-elect although the vote-tabulation process is still underway. Giuliani said President Trump is right not to concede the election.
Up early working on PA.

@realDonaldTrump election night 800,000 lead was wiped out by hundreds of thousands of mail in ballots counted without any Republican observer.

Why were Republicans excluded?

Tweet me your guess, while I go prove it in court.

— Rudy W. Giuliani (@RudyGiuliani) November 8, 2020
"If this were a fair process, even by Fox, that would have been called for him [Trump]," Giuliani stated. "Particularly since they called Virginia very early on with a very small sample of the vote. With Trump actually ahead in Virginia, they called it for Biden. Only Fox did."
ELECTION THEFT Of The Century

Rudy Giuliani's analysis here: https://t.co/8avUggoSnz pic.twitter.com/PPiutAuxvD

— Rudy W. Giuliani (@RudyGiuliani) November 6, 2020
Giuliani expects these formal complaints to start being filed as soon as Monday.