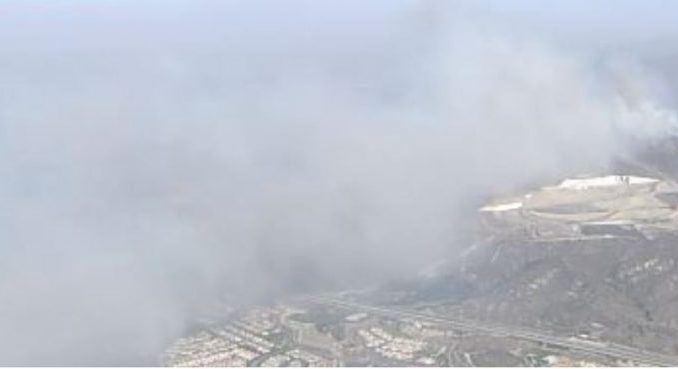 OAN Newsroom
UPDATED 4:33 PM PT – Monday, October 26, 2020
On Monday, Orange County, Calif. underwent mandatory evacuations when firefighters battled a fire near Irvine, Calif.
The Silverado Fire broke out early Monday morning in the Santiago Canyon and has now burned 2,000 acres. The fire has been fueled by strong Santa Ana winds and is zero percent contained.
Flames have jumped the 241. #SilveradoFire

Approximately 60,000 people are evacuating the Irvine area. Check your evacuation location here: https://t.co/gAGlMlPUL2 pic.twitter.com/RhVJu7g0us

— OCFA PIO (@OCFA_PIO) October 26, 2020
Around 60,000 residents have been forced to evacuate their homes. Crews are currently fighting the blaze on the ground and in the air and two firefighters are critically injured.
At approximately 12:15 pm this afternoon two OCFA Handcrew members were critically injured fighting the #SilveradoFire. Aged 26 and 31, both are covered in second and third degree burns and are currently intibated. Please keep them in your thoughts and prayers. pic.twitter.com/xkWZMKP4SV

— OCFA PIO (@OCFA_PIO) October 26, 2020
#SilveradoFire off of Santiago Canyon Road and Silverado Canyon Road, Southwest of Silverado in Orange County is 4000 acres. Lead Agency and For More Information: @OCFA_PIOhttps://t.co/5jUeDg81gJ pic.twitter.com/BuDAoOTVZv

— CAL FIRE (@CAL_FIRE) October 26, 2020
A red flag warning is in effect until Tuesday.
A #RedFlagWarning is in effect for much of CA due to critical fire weather. Watch this short video to see exactly what areas are under the warning.https://t.co/upBwccxXFO pic.twitter.com/IbuRad2wC0

— CAL FIRE (@CAL_FIRE) October 26, 2020