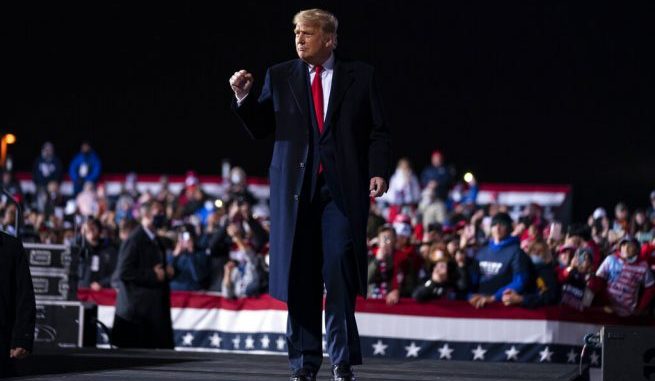 OAN Newsroom
UPDATED 6:59 AM PT – Wednesday, October 21, 2020
President Trump has continued to campaign across the United States ahead of the presidential election with a recent stop in Erie, Pennsylvania, where he rallied with supporters.
The President first commented on how massive his audience was by noting the crowds seem to have grown even larger than they were four years ago.
"I always want the cameras to show, they never like to show," he stated in reference to the number of people in attendance. "The biggest crowds anyone's ever had, bigger than what we had four years ago…bigger."
President Trump then slammed the mainstream media and Big Tech companies while accusing them of censoring the truth as well as his campaign's speeches due to their blatant bias towards the Democrat Party.
https://t.co/Cqk1jU5Gud pic.twitter.com/ceXJrmjkaF

— Dan Scavino??? (@DanScavino) October 21, 2020
"I'm not just running against Biden, sleepy Joe," he noted. "I'm running against the corrupt media, the Big Tech giants, the Washington swamp and the Democrat Party is a part of all of them."
President Trump then criticized his opponent, Joe Biden, for threatening to lockdown the entire country if he became president while also warning a Biden presidency would severely damage the American economy.
"They support crippling lockdowns like your governor (Tom Wolf) is doing while their jobs and their industries remain totally exempt," stated the Presient. "And it's time to send a message to these wealthy liberal hypocrites by delivering Joe Biden, sleepy Joe, a thundering defeat on November 3rd."
President Trump and his Democrat opponent are set to go head-to-head one last time on the debate stage this coming Thursday with both parties ramping up campaign efforts as Election Day approaches. OAN will provide live coverage of the event starting at 6 p.m. PST / 9 p.m. EST.