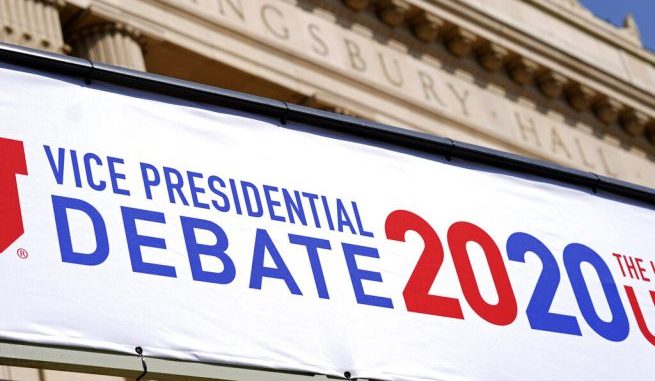 OAN Newsroom
UPDATED 11:24 AM PT – Tuesday, October 6, 2020
All eyes are on Salt Lake City as the two vice presidential candidates are set to take the debate stage. However, the Commission on Presidential Debates announced changes to the debate on Monday.
This came after President Trump, First Lady Melania, several White House staffers and others tested positive for coronavirus. Vice President Mike Pence, Sen. Kamala Harris and the moderator will all be separated by plexiglass dividers, which was a request made by the Biden-Harris campaign.
Furthermore, the candidates will be required to stay about 12-feet apart compared to the seven-feet between President Trump and Joe Biden at their first debate. Members of the limited audience will also be spaced out. Also, any audience member who does not wear a mask will be escorted out.
Pence stepped into full campaign mode as President Trump took a break from the campaign trail while receiving care at Walter Reed National Military Medical Center. The President has since returned to the White House while Pence continues to prepare for the debate.
"We're looking very much forward to the vice presidential debate," Pence stated. "The stakes in this election have never been higher, the choice has never been clearer, and I look forward to the opportunity to take our case to the American people for four more years for President Donald Trump in the White House."
While vice presidential debates in the past seem to carry little weight, this face-off is no ordinary contest. This match-up comes off the heels of a fiery first presidential debate. At a time when political stakes are at an all-time high, the two vice presidential candidates look to zero-in and hit hard at topics, especially the coronavirus pandemic.
Pence could use the platform to showcase his preparedness to step in as President if necessary. Meanwhile, Harris as a former prosecutor may choose to turn up the heat.
"Let's put our shoulders to the wheel, let's do the work that is necessary and continue to fight for our ideals and our values," she stated. "And in this case, what they fought for so many years ago, which is freedom and to hold our country accountable for the ideas we say we hold dear."
The debate will be moderated by Susan Page of USA Today on Wednesday night at the University of Utah. One America News will provide live, uninterrupted coverage of the event starting at 9 p.m. EST / 6 p.m. PST!
#Debates2020 @UUtah pic.twitter.com/SpPvWLNYMd

— CPD (@debates) October 5, 2020