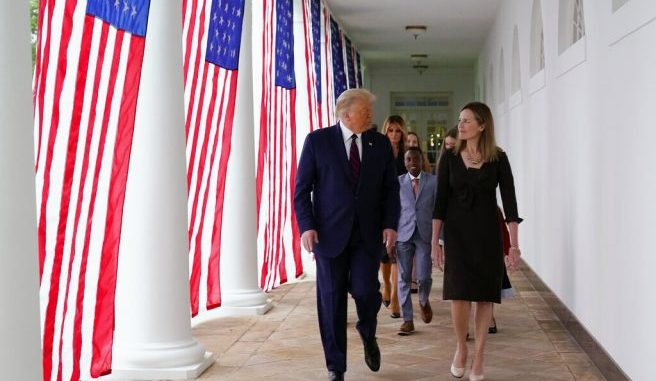 OAN Newsroom
UPDATED 6:43 AM PT – Monday, September 28, 2020
Democrats are trying to frame the fight over a vacant Supreme Court seat as a battle for the future of Obamacare after Amy Coney Barrett accepted President Trump's nomination.
During remarks in Wilmington, Delaware Sunday, Democrat presidential nominee Joe Biden claimed the President's nomination jeopardizes the future of health care for all Americans. His comments came after Barrett, who's expected to be confirmed by the Senate before the election, notably criticized a 2012 decision which upheld the law by Chief Justice John Roberts.
The Supreme Court is slated to consider a case challenging Obamacare in November, just one week after the 2020 election. The court will likely have a six-to-three conservative majority by then, but the the outcome of the case is far from certain.
Biden framed the potential of the law to be struck down as a motive that voters ensure their voices are heard .
"They should see to it that the American public will vote on the Senate races on this election and that they vote Republicans out of office," he stated. "I want to stay on focus here: this is about your health care, this is about whether or not the ACA (Affordable Care Act) will exist."
However, Biden admitted he has not directly reached out to senators about waiting to confirm Barrett until after the elections.
House Speaker Nancy Pelosi also turned up the criticism against the President's choice to nominate a known critic of Obamacare. She accused President Trump of rushing the nomination before November for the sole purpose of overturning the legislation.
However, the President took to Twitter Sunday to assure if Obamacare is terminated by the Supreme Court, it will be replaced with a much better and far cheaper alternative.
Obamacare will be replaced with a MUCH better, and FAR cheaper, alternative if it is terminated in the Supreme Court. Would be a big WIN for the USA!

— Donald J. Trump (@realDonaldTrump) September 27, 2020
Previously, President Trump has stressed if the law is struck down by the court, he would put forward a plan offering the highest standard of care anywhere in the world.