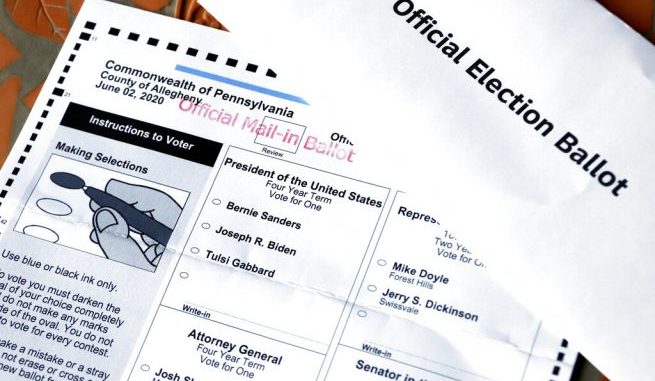 OAN Newsroom
UPDATED 8:30 AM PT – Sunday, September 27, 2020
States have begun cracking down on mail-in voting fraud as the November election quickly approaches.
Texas' attorney general announced four arrests in connection with a vote harvesting scheme this week. Democrat County Commissioner Shannon Brown and three others were taken into custody on Thursday for allegedly committing voter fraud in the 2018 primary elections in Gregg County.
Authorities reported the group falsely marked several voters as disabled in order to obtain their mail-in ballots and cast the ballots for Brown. The Gregg County election results showed he defeated his opponent for the position of commissioner by five votes.
The attorney general noted mail-in ballots are extremely vulnerable to the influence of vote harvesting schemes.
Meanwhile, an election office in Pennsylvania is under investigation after an independent contractor wrongly disposed of seven military mail-in ballots, which were reportedly cast for President Trump.
The contractor was released from duty following the incident. The situation is still under federal investigation.
Earlier this month, the secretary of state in Georgia announced 1,000 individuals had voted twice in the June primaries by casting absentee ballots and voting again in person.
"1,000 people of that 150,000 actually double voted, knowing full well that their vote they had filled out an absentee ballot, had mailed it back in and then showed up on the day of election," explained Brad Raffensperger.
According to reports, the phone lines were busy when poll workers tried to call the county elections office to verify whether or not the absentee votes has been counted. One poll worker said they felt they had no choice but to have the individuals sign an affidavit and allow them to vote.
A group of men was arrested earlier this summer in California for bribing homeless people to forge signatures on ballot petitions and voter registration forms during the 2016 and 2018 elections.
The men were able to produce hundreds of fraudulent signatures. They are currently facing three-year sentences of prison and probation.
In the meantime, President Trump continues to raise concerns mail-in voting may result in an unfair election.
WATCH THE BALLOTS!!!

— Donald J. Trump (@realDonaldTrump) September 27, 2020