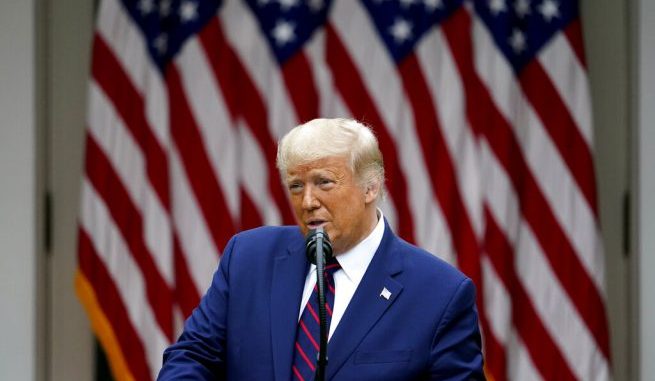 OAN Newsroom
UPDATED 3:45 PM PT – Saturday, September 26, 2020
On Saturday, President Trump nominated 48-year-old Judge Amy Coney Barrett to the U.S. Supreme Court.
"Today it is my honor to nominate one of our nation's most brilliant and gifted legal minds to the Supreme Court," he said. "She is a woman of unparalleled achievement, towering intellect, sterling credentials and unyielding loyalty to the Constitution."
President @realDonaldTrump announces his intent to nominate Judge Amy Coney Barrett! pic.twitter.com/rgQEcSETKk

— The White House (@WhiteHouse) September 26, 2020
Judge Barrett thanked the President and his administration for their kindness and the honor of being nominated.
"If the Senate does me the honor of confirming me, I pledge to discharge the responsibilities of this job to the very best of my ability," she stated. "I love the United States, and I love the United States Constitution."
If she is appointed to the Supreme Court, she noted she will "be mindful of who came before me."
"I am truly humbled by the prospect of serving on the Supreme Court," added Barrett.
"Should I be confirmed, I will be mindful of who came before me." pic.twitter.com/PEzpYa8qwl

— The White House (@WhiteHouse) September 26, 2020
Judge Barrett's legal career began when she graduated from Notre Dame Law School in 1997.
She went on to clerk for late conservative Justice Antonin Scalia, where she earned a reputation among her associates for "destroying flimsy legal arguments."
Barrett then went on to practice and teach law in Indiana for the next 15 years.
The nominee has been a federal judge at an appellate court in Chicago for the past three years, where her reputation as a conservative has grown. The Catholic judge has become a well-known, staunch opponent of abortion.
She has hinted she would want to leave the basic right of abortion in place, but also allow states to make some abortions difficult to acquire.
"I don't think the core case that women have a right to an abortion will change, but I think the question of whether people can get very late term abortions, how many restrictions can be put on clinics, will change," she said.
Also prominent in Barrett's list of policies was her stance on healthcare. In 2017, she denounced Justice John Robert's decision to uphold the Affordable Care Act. Experts have predicted she will pose a threat to Obamacare moving forward.
Regarding guns, Judge Barrett previously struck down a federal law that barred felons from owning guns. She is expected to be a firm advocate for the Second Amendment.
If confirmed by the Senate, she will be the youngest justice on the Supreme Court and could shape American policy for years to come. The Senate will soon hold a vote on whether to confirm her to the Supreme Court before the November election.