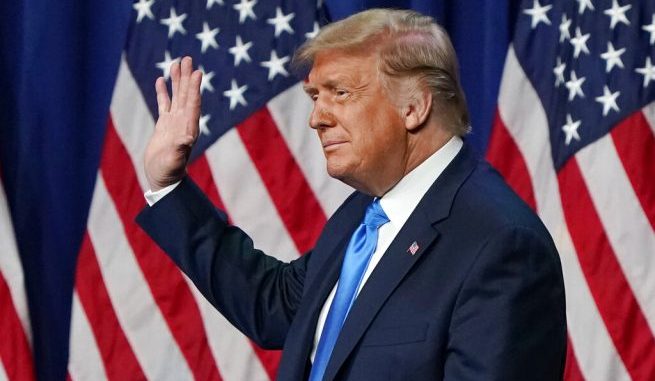 OAN Newsroom
UPDATED 10:40 AM PT – Wednesday, September 23, 2020
President Trump's record in office will be measured against that of his Democrat opponent, Joe Biden, during their first presidential debate next week. On Tuesday, the Commission for Presidential Debates released the topics for the upcoming debate.
NEW: Chris Wallace, moderator of the first presidential debate, has selected topics for the 9/29 debate – The Trump and Biden Records, The Supreme Court, Covid-19, The Economy, Race and Violence in our Cities, The Integrity of the Election #Debates2020https://t.co/d7Q8iNXWzf

— CPD (@debates) September 22, 2020
The commission outlined six topics, including the Supreme Court, COVID-19, the economy, nationwide protests and election integrity. Fox News anchor Chris Wallace will moderate the debate and spend 15 minutes on each topic.
Reports suggested an additional moderator will be watching closely to ensure Wallace remains neutral. This came after a heated interview he had with President Trump earlier this year.
Both candidates have expressed their eagerness to face-off after months of anticipation. At one point, Biden suggested having live fact checkers at the event before conceding that plan may backfire.
"What I'd love to have is a crawler at the bottom of the screen, a fact checker, if we really wanted to do something," he said. "If everything both of us said was instantly fact checked by an agreed to group of people, but probably wouldn't get too far in the debate."
The President has questioned Biden's mental capacity to compete in a debate, despite the former vice president's decades of experience running for office.
"We have a debate coming up and who knows?" he asked. "He's been doing this for 47 years, I've been doing it for 3 ½ years, so he should be able to beat me, I would think, he's much more experienced."
The debate is set to take place next Tuesday in Cleveland, Ohio.