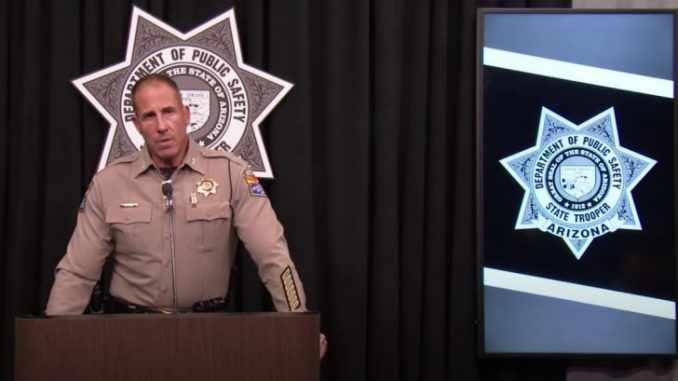 OAN Newsroom
UPDATED 12:30 PM PT – Saturday, September 19, 2020
A manhunt is underway in Arizona after a state police detective was targeted in an ambush style attack this week. One suspect has been taken into custody, while another remains at large in Phoenix.
17-year-old Luis Acuna was arrested on Thursday after he allegedly opened fire, unprovoked, on an unidentified state trooper, who was sitting in his unmarked police vehicle.
"As he approached our trooper, our trooper did not understand at the moment how much danger he was in," explained Director Colonel Heston Silbert.
Miraculously, he was able to exit his vehicle and return fire.
Shortly thereafter, a second state trooper arrived at the scene. A shootout ensued until the suspected gunman was apprehended. No injuries were reported.
According to police, Acuna was assisted by an accomplice who drove him to the scene. The accomplice was meant to act as a getaway driver, but fled the scene when the shootout began.
Authorities have provided details about the car and are asking for the public's assistance in locating the second suspect.
"It appears to be an Infinity four-door sedan, silver in color, year is approximately 2013 (and) it has custom chrome wheels," stated Silbert. "If anybody has information that can provide us help or assistance with locating this vehicle, it would be greatly appreciated."
AZDPS detectives seek public assistance locating this vehicle, believed to be a silver 2008-2013 Infinity model G-37 with custom wheels. It has a temporary plate & appears to have chipped paint below the license plate area. If seen, please call 9-1-1 immediately. pic.twitter.com/17xfuEp72S

— Dept. of Public Safety (@Arizona_DPS) September 17, 2020
The targeted trooper was reportedly in the city to assist in an unrelated investigation. Director Colonel Heston Silbert has confirmed, "no question, it was an ambush." He added the officer was "wearing police attire and was easily identifiable as a police officer" at the time of the attack.
Silbert went on to comment on the nationwide calls to "defund the police" and lamented the dangers law enforcement officers are now facing.
"Thus far this year, 74 law enforcement officers have been killed in the line of duty in the United States of America," he added. "Unfortunately, I don't hear a lot of people speak to that."