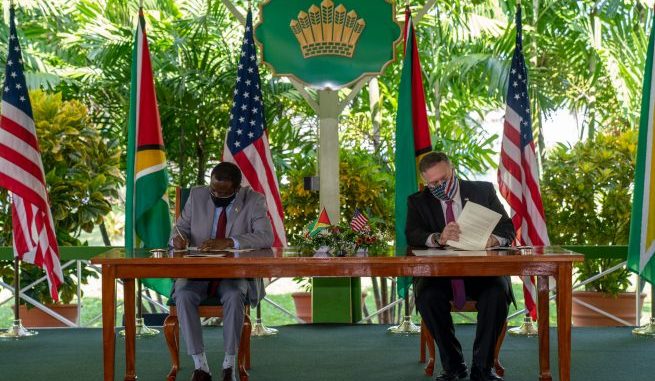 OAN Newsroom
UPDATED 12:20 PM PT – Friday, September 18, 2020
Guyana officially joined the Growth in the Americas initiative following a signing ceremony with Secretary of State Mike Pompeo. Pompeo met with President Irfaan Ali on Friday to discuss governance, citizen security and leveraging the nation's wealth of natural resources to provide for the future.
The secretary confirmed they discussed the need for democracy in Venezuela and highlighted the $5 million the U.S. has provided to help those fleeing the illegitimate regime.
He added the U.S. is helping to set up a business model in Guyana that will benefit all of their people.
"We want the wealth that is created from these opportunities to belong to the people of Guyana and do so in a transparent, fair way that reflects the democratic election that was just held," stated Pompeo. "I know President Ali shares this goal as well."
With today's signing of the #GrowthInTheAmericasAgreement, the United States and Guyana will accelerate Guyana's prosperity and champion private sector investment. Glad to join President Ali on this momentous occasion, a positive step in our bilateral relationship. pic.twitter.com/HA2Z2cLb69

— Secretary Pompeo (@SecPompeo) September 18, 2020
The signing means the U.S. will also help with infrastructure, financing and security amid Guyana's battle with drug trafficking.