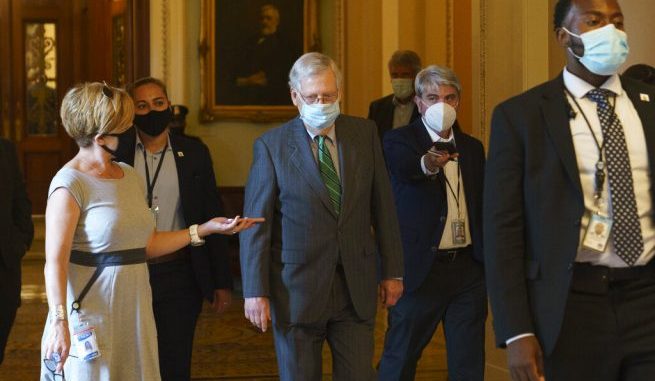 OAN Newsroom
UPDATED 12:25 PM PT – Thursday, September 10, 2020
On Thursday, the Senate failed to move forward on the Republican's "skinny" stimulus bill. The procedural motion on the bill failed in a 52 to 47 vote, as 60 votes were needed.
All Democrats voted against the stimulus, while Kentucky Sen. Rand Paul was the only Republican to vote "no."
Before the vote, Senate Majority Leader Mitch McConnell (R-Ky.) slammed the Democrats for treating this relief effort as a partisan food fight.
"Senators who share the Democratic leader's toxic attitude, who think the real enemy are their political opponents, I assume will follow his lead and vote 'no.' They can tell American families they care more about politics than helping them. Senators who want to move forward will vote 'yes.' They will vote to advance this process, so we can shape it into a bipartisan product and make a law for the American people. That, Madam President, is what working families need. They need us to act, they need us to legislate. Today, they'll see exactly who has their backs." – Mitch McConnell, Senate Majority Leader
After the vote, he tweeted, "every Senate Democrat just voted against hundreds of billions of dollars of COVID-19 relief."
"Their goal is clear," he added. "No help for American families before the election."
Every Senate Democrat just voted against hundreds of billions of dollars of COVID-19 relief. They blocked money for schools, testing, vaccines, unemployment insurance, and the Paycheck Protection Program.

Their goal is clear: No help for American families before the election.

— Leader McConnell (@senatemajldr) September 10, 2020