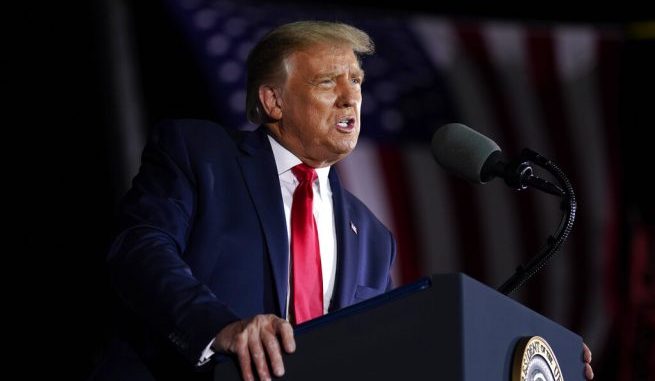 OAN Newsroom
UPDATED 6:10 PM PT – Thursday, September 10, 2020
On Thursday, President Trump thanked the American public and White House officials for their efforts during the pandemic. On Thursday, he asserted his belief that the country is rounding the corner.
The President highlighted the nation's progress and stated everyone has done a phenomenal job. He noted more than 10 million jobs have been added over the past four months.
He went on to say the nation is seeing its fastest ever labor market recovery from an economic crisis.
"You don't hear these things, you don't hear these statistics, but the United States has done really well. Very proud of everybody that worked on this. …Not even discussing vaccines, and not discussing therapeutics, we're rounding the corner. We already have therapeutics out there, by the way, which are having obviously a very big impact. You look at that, you look at the way people are recovering, so much better than in the past." – Donald Trump, 45th President of the United States
President Trump also noted new weekly coronavirus cases have declined by 44% since July, while deaths have declined by 20% compared to last week.
President Trump went on to criticize Democrat Party officials over their recent opposition to Republican stimulus proposals.
"Right now, the Democrats don't want to pass it. They don't want to help the workers of our country. They didn't deserve this, this was given to us by China. But Nancy Pelosi and Schumer don't want to pass the stimulus bill because they think that helps me in the election. I don't think it helps me at all." – Donald Trump, 45th President of the United States
This came after Pelosi described the GOP's skinny stimulus plan as "emaciated." The House speaker claimed it doesn't spend enough money on bonuses for government workers.
However, the President has said the Democrats' stance is purely political.
"We are prepared to pass stimulus for people that need it, …but I have a feeling the Democrats won't do it," he added.
In the meantime, he stated ongoing recovery in economic activity and gains in employment will offset the negative consequences of Democrats' inaction.