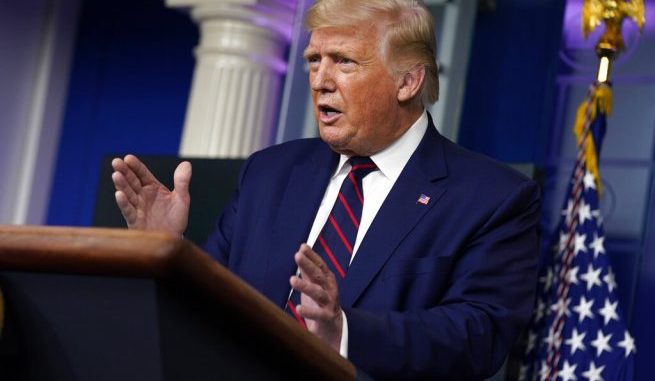 OAN Newsroom
UPDATED 9:38 AM PT – Saturday, September 5, 2020
During Friday's White House press briefing, the president looked back on his administration's efforts to stem both the economic and health effects of the pandemic. He has suggested more is still in store for the country.
Ahead of Labor Day weekend, President Trump discussed recent additions to the labor market.
"As we begin Labor Day weekend, America's unprecedented economic recovery continues," he stated. "…1.4 million jobs last month, bringing the total to 10.6 million jobs created in just four months, a record by far."
10.6 MILLION jobs have been created in just four months!

"We're witnessing the fastest labor market recovery from any economic crisis in history, by far." pic.twitter.com/kkxUkCERKe

— The White House (@WhiteHouse) September 4, 2020
The president stressed his administration's efforts have not been limited to mitigating the pandemic's economic fallout. According to him, officials also sought to minimize the rate of infection in the country.
He went on to highlight his enactment of travel restrictions and claimed the move was responsible for saving countless American lives.
"If I didn't close up our country and stop China, highly infected from coming in, …we would have far more (cases) than that," he added. "But maybe even more important, if I didn't close up, instead of the number you mentioned, …perhaps we would have 1.5 or 2 million deaths right now."
President Trump also announced ongoing plans to continue the enforcement of business shutdowns and the distribution of aid to Americans disrupted by lockdowns. He has, once again, called on Congress to reach an agreement that will give families across the country much needed relief.
The president particularly made a point of emphasizing the need for a new round of stimulus checks. According to him, his administration already has the funds set aside and ready to be distributed, pending Congress's authorization of the disbursement.
"We have $300 billion sitting in an account that we didn't use, and we are willing to use that," he said. "I would be willing to release it, subject to Congress, and use that as stimulus money."
Despite these achievements, the president pointed out the dominant narrative in media remains accusatory towards his administration. Meanwhile, he noted the press has a much more amiable relationship with his Democrat opponent, Joe Biden.
"I watched the interview with sleepy Joe Biden. You didn't ask questions like that. Read the questions they were like meant for a child. Smiles on the faces of reporters… I just want to tell you that it's a disgrace." – Donald Trump, 45th President of the United States
The president concluded his remarks by reminding Americans to take precautions over the holiday weekend to prevent the spread of COVID-19.
Keep taking common-sense steps to prevent the spread of the Coronavirus—especially this holiday weekend!

✅ Socially distance

✅ Wear a mask

✅ Wash your hands pic.twitter.com/t8XvvxynKO

— The White House (@WhiteHouse) September 4, 2020