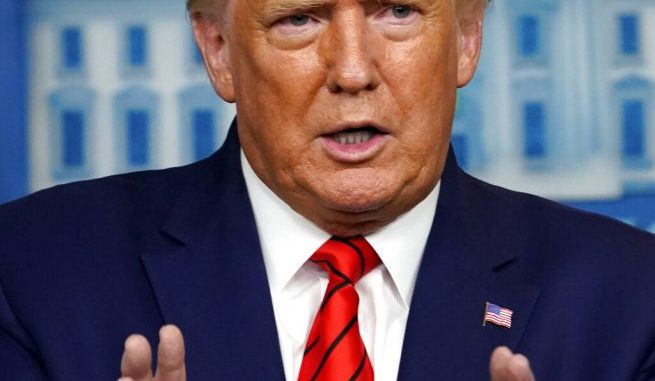 OAN Newsroom
UPDATED 11:33 AM PT – Wednesday, September 2, 2020
President Trump has called on CNN to fire anchor Chris Cuomo after leaked audio revealed a discussion he had with Michael Cohen regarding sexual misconduct allegations.
In a tweet Wednesday the president referred to Cuomo as "Fredo," the fictional character in "The Godfather" films depicted as a weaker, younger brother.
Will Fredo be fired by Fake News @CNN? He speaks with great disrespect about women, and it will only get worse. Fredo's Ratings are bad, so this is the time. Always terrible to speak to sleazebags, especially when you are being recorded. CNN has no choice, Fredo must go! https://t.co/veVwg7G1YF

— Donald J. Trump (@realDonaldTrump) September 2, 2020
The president went on to mention leaked audio of Cuomo discussing apparent sexual misconduct claims against him during his time at ABC with the president's ex-lawyer Michael Cohen. In the conversation, the CNN anchor discussed how far the #MeToo movement has gone.
Responding to the audio, the president said, "it's always terrible to speak to sleazebags, especially when you are the being recorded." He also noted Cuomo's "ratings are bad" and said it's time for him to go.
In a separate tweet President Trump issued criticism against another mainstream media personality. He said just "like Fredo at CNN," MSNBC's Joy Reid should also be fired after appearing to denigrate the Muslim community by comparing them all to radical terrorists.
Like Fredo at Fake News @CNN, the very untalented Joy Reid should be fired for this horrible use of the words "Muslim Terrorists". Such xenophobia and racism on MSDNC. Anyone else would be gone, and fast!!! https://t.co/a5HSIEXlQL

— Donald J. Trump (@realDonaldTrump) September 2, 2020
During Reid's prime-time show, she said the president radicalizes his supporters similar to how "Muslims act." She made the following remarks on the issue:
"When leaders, let's say in the Muslim world, talk a lot of violent talk and encourage their supporters to be willing to commit violence, including on their own bodies, in order to win against whoever they decide is the enemy…we in the U.S. media describe that as they are radicalizing these people, particularly when they're radicalizing young people. That's how we talk about the way Muslims act."
President Trump called Reid's comments xenophobic and racist. He said her words would not be tolerated if made by anyone else.