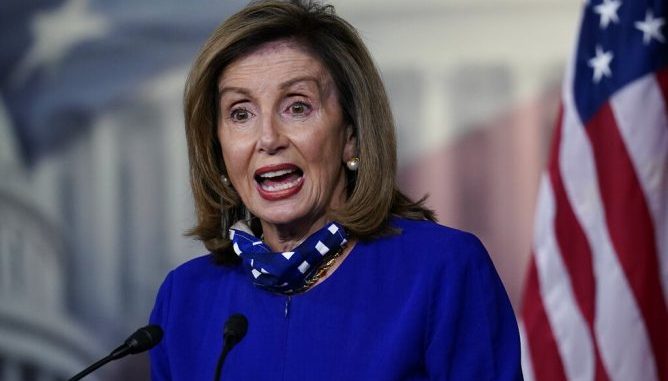 OAN Newsroom
UPDATED 1:00 PM PT – Thursday, August 27, 2020
House Speaker Nancy Pelosi has advised Democrat nominee Joe Biden to cancel his debates with President Trump. During her weekly news conference, she stated she doesn't think the president's arguments should be legitimized by the upcoming performances, since he would "belittle" the forum.
"Don't tell anybody this, especially don't tell Joe Biden," she said. "I don't think there should be any debates."
According to Pelosi, the president's debate performance when he went up against Hillary Clinton in 2016 was "disgraceful." She went on to reference the way he "stalked" her onstage.
"Stalking Hillary Clinton like that… I was disappointed at the press for not saying, 'Go back to your station, you don't own the stage. You have your own podium, she has hers.' So I think he'll probably act in a way that's beneath the dignity of the presidency." – Nancy Pelosi, Speaker of the House
Despite her warning, Biden recently confirmed he is still planning to go toe-to-toe with President Trump. His campaign has agreed to three debates, which are set to take place in September and October.