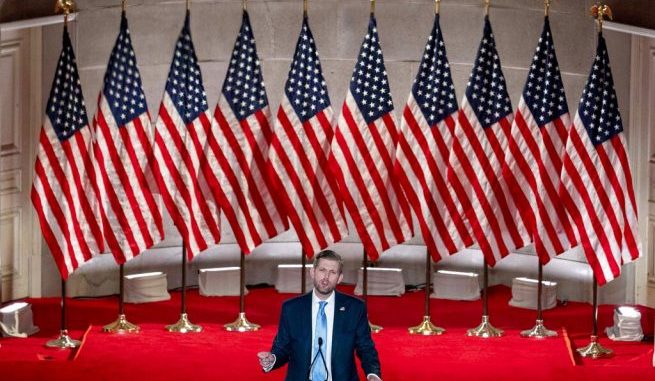 OAN Newsroom
UPDATED 12:12 PM PT – Wednesday, August 26, 2020
Eric Trump said his father will continue to fight for "every proud American who bleeds red, white and blue." He advocated for his father's reelection in his speech at the 2020 Republican National Convention Tuesday. Eric said a vote for the president is a vote for the American spirit, dream and flag.
The president's son also took aim at Joe Biden by calling him a career politician who does not know anything about the American worker or businesses. He claimed Biden has pledged to give all illegal immigrants amnesty and health care, pledged to stop border wall construction and pledged to defund police.
Eric also delivered a personal message to his father:
I miss working alongside you every day, but I'm damn proud to be on the front lines of this fight.
I am proud of what you are doing for this country.
I am proud to show my children what their grandfather is fighting for.
I am proud to watch you give them hell.
Never stop. Continue to be unapologetic. Keep fighting for what's right.
You are making America strong again.
You are making America safe again.
You are making America proud again.
The president's son said the American spirit will "defeat the empty oppressive and radical views of the extreme left" on Election Day.
— Donald J. Trump (@realDonaldTrump) August 26, 2020