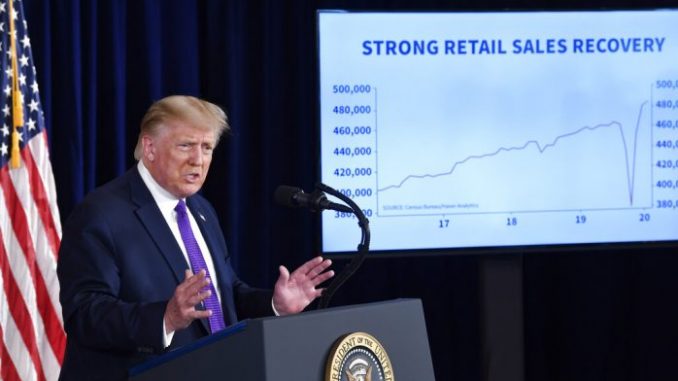 OAN Newsroom
UPDATED 9:45 AM PT – Sunday, August 16, 2020
President Trump held a press briefing from his property in Bedminster, New Jersey this weekend. He covered multiple topics on Saturday, ranging from the election to the coronavirus.
He began with the state of the pandemic in the U.S.
"Nearly 85% of jurisdictions all across our country are reporting a very steep decline in cases. That's despite the fact that we have the No. 1 testing program anywhere in the world. We're up to almost 70 million tests, far beyond any other country." – Donald Trump, 45th President of the United States
The United States has administered over 70 million Coronavirus tests, and the turnaround time has been greatly reduced. pic.twitter.com/hYq8p500tb

— The White House (@WhiteHouse) August 15, 2020
He went on speak about the state of the economy.
"Through the historic relief package that I signed into law, we saved over 50 million American jobs, and the unemployment rate is rapidly going down," stated the president. "You see that, you've seen that, and I think you'll see it over the next two months."
We're witnessing the fastest economic recovery in American history ?? pic.twitter.com/qjpCgc0M5m

— The White House (@WhiteHouse) August 15, 2020
He also touted the administration's efforts to provide aid to nursing homes, which were ravaged by COVID-19 early on in the pandemic.
"We have rushed nursing home funding, protective gear, rapid testing equipment, and we will announce additional measures to protect nursing home residents in the coming days," he added. "We've worked very hard with nursing home companies and also with the governors."
President Trump provides an update on the Coronavirus:

This week, cases nationwide have declined by 6%.

The test positivity rate has fallen to 6.5%—a 71% reduction from April and a 15% reduction from mid-July.

The hospitalization rate has been reduced by half since April. pic.twitter.com/gGqWA2vxkk

— The White House (@WhiteHouse) August 15, 2020
Finally, President Trump spoke on the threat foreign powers could pose if presumptive Democrat nominee Joe Biden is elected in November.
"They are dreaming about Joe Biden. They would love to have that happen, but I don't think that's going to happen. They are dreaming about him, so is Iran, and so are numerous other countries. If that happens, they'll own the United States." – Donald Trump, 45th President of the United States
Overall, the president was optimistic about the state of affairs in the U.S. as the country copes with the ongoing pandemic and prepares for the November election.