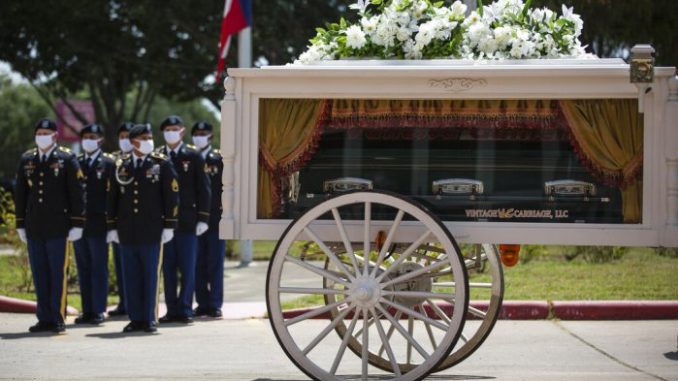 OAN Newsroom
UPDATED 10:30 AM PT – Saturday, August 15, 2020
U.S. and Mexico flags flew at half-staff in Texas this weekend as hundreds of people gathered to pay their respects to slain 20-year-old Army specialist Vanessa Guillen. The bilingual ceremony was held on Friday in Houston at Cesar Chavez High School, which Guillen once attended.
A white horse drawn carriage, which was covered in flowers and portraits of the Virgin Mary, brought her casket to the front of the school. Several ROTC soldiers then carried the casket inside, where friends and family members were waiting.
Among them was the victim's youngest sister, who gave a tearful speech and said she had admired Guillen since "day one."
"Vanessa Guillen is the definition of beauty, strength, a warrior and life," stated Lupe Guillen.
Family attorney Natalie Khawam thanked the Trump administration for making sure Guillen's remains were returned to relatives in time for the funeral.
Vanessa Guillen was just 20 years old when she disappeared from her post at the Fort Hood Army base in April. Authorities found her body 10 weeks later.
They believe she was assaulted and killed by a fellow soldier, who has since taken his own life.
While the investigation into Guillen's death continues in Texas, members of Congress have renewed calls for systemic shifts in the way the military handles sexual abuse and harassment.
"The best way to honor the memory of Vanessa Guillen is not let this go in vain, but rather to continue to uplift the story, to share the story," said Cesar Espinosa. "At the end of the day, we want there to be sweeping changes to the U.S. Army so that no other family has to go through this."