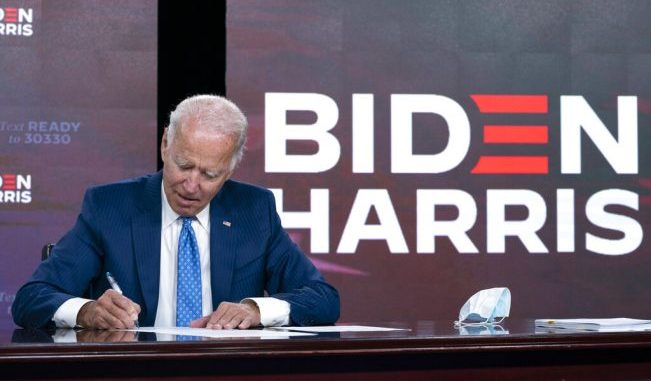 OAN Newsroom
UPDATED 2:40 PM PT – Friday, August 14, 2020
Joe Biden and running mate Sen. Kamala Harris (D-Calif.) have taken the first step in making their nomination official. The pair signed documents in Delaware on Friday, where they requested to be placed on the ballot in each of the 50 states.
This afternoon, @KamalaHarris and I filled out our paperwork to get on the ballot in November.

Now, we're counting on you to do your part to make sure you're set to vote.

Get registered today: https://t.co/Hy8C4mIL2M pic.twitter.com/JzAonY8TCg

— Joe Biden (@JoeBiden) August 14, 2020
The event came ahead of the Democratic National Convention next week, where Biden is expected to share his vision for the country's future.
During the signing, Harris was asked about her recent selection as Biden's running mate.
"I'm signing this because I'm in this race to win," she said. "With that guy right there, we're going to get it done."
Biden is expected to formally accept the Democrat presidential nomination on Thursday.
Meanwhile, Biden's campaign raised $48 million in the 48 hours following the announcement of his running mate. The day before, the former vice president raised $26 million during a 24-hour period.
These numbers came in contrast to the beginning of his campaign, when he struggled to receive donations.
Harris had aided Biden's fundraising even before being named his running mate. She amassed $4 million for the Democrat candidate during an event in June.
Joe Biden raised an estimated $140 million during the month of July, adding to the $165 million he had previously secured.