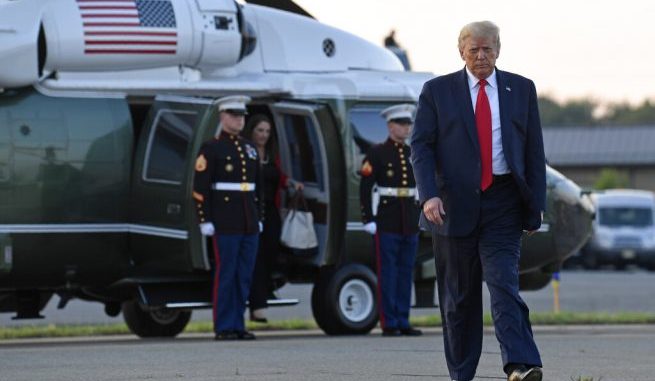 OAN Newsroom
UPDATED 10:22 AM PT – Monday, August 10, 2020
President Trump said House Speaker Nancy Pelosi and Senate Minority Leader Chuck Schumer want to discuss coronavirus relief again. In a tweet Monday, the president was critical of the leading Democrats and cited previous negotiations with the White House.
So now Schumer and Pelosi want to meet to make a deal. Amazing how it all works, isn't it. Where have they been for the last 4 weeks when they were "hardliners", and only wanted BAILOUT MONEY for Democrat run states and cities that are failing badly? They know my phone number!

— Donald J. Trump (@realDonaldTrump) August 10, 2020
The president signed a coronavirus relief executive order Saturday as negotiations between the Democrats and administration officials collapsed. According to him, Pelosi and Schumer are holding the relief hostage for their partisan demands.
"Look they were not interested in doing what they had to do…their big point of discussion was bail outs, they wanted to bail out poorly run Democrat states like," he explained. "…we're not going to do that…they talked about a number of a trillion dollars, we can't do that."
Both Pelosi and Schumer have voiced opposition to the executive order and have called on leading Republicans to reopen negotiations.
Meanwhile, Treasury Secretary Steven Mnuchin said the White House is eager to resume stimulus talks with Democrat leaders. During an interview Monday, the secretary said Republicans are willing to put more aid money on the table to coax Democrats back to the negotiating table.
House Speaker Pelosi said the White House rejected an offer over the weekend to pass a $2 trillion relief bill. Despite that, Mnuchin seemed optimistic he could reach common ground with house leaders.
"There's a deal to do if the Democrats are reasonable want to compromise and if their attitude is, you know, 'we'd rather give you nothing than agree on things' then we're not going to get a deal," he stated. "…if we can get a fair deal, we'll do it this week, but the president needed to take action."
Mnuchin declined to comment on when those negotiations would resume.