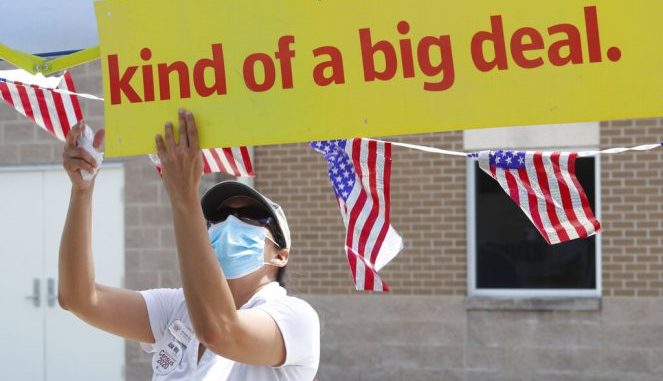 OAN Newsroom
UPDATED 6:39 AM PT – Monday, August 10, 2020
The 2020 Census is a tally that's only conducted every decade to count the number of residents in the nation.
It's results dictate funding behind a number of vital government programs surrounding housing, education, transportation, employment, health care and public policy for the next decade. It's also used as the basis to redraw congressional and state legislative districts.
"It's how we get money into our state and city. It's how we get money for our schools, our hospitals, our infrastructure. Everybody wants better roads and it's how we get representation in Congress as well. It even determines how our city council district line will be drawn "
— Atlanta Mayor Keisha Lance Bottoms (D)
Traditionally a nonpartisan process, in recent years the census has taken center stage on a number of debates. Most recently in early August, U.S. Census Bureau Director Steven Dillingham dropped a bombshell announcement by ruling against any extensions for the count.
The news drew stark criticism from those who said an inaccurate count would be detrimental to ethnic minorities and poorer communities. This comes as the some 60 million households, which have not yet completed their census survey, are frequently more likely home to undocumented migrants.
On the other hand, President Trump has expressed a hardline stance on the issue by saying the country's millions of undocumented residents take away representation from Americans.
"There used to be a time when you could proudly declare 'I am a citizen of the United States,' but now they are trying to erase the existence of a very important word and a very important thing: citizenship," he stated.
Regardless, Census Director's Dillingham's order means the count, billions of dollars in federal funds and even the jobs of certain elected officials will all be in the hands of the census to be set in stone come the end of the year.
Joint Statement from the Census Bureau and Centers for Disease Control on Conducting #2020Census Non-Response Follow-Up Interviews. https://t.co/0sb1zGKFnI

— U.S. Census Bureau (@uscensusbureau) August 10, 2020