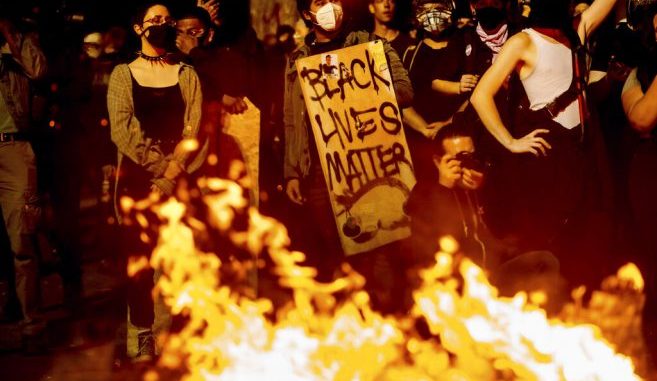 OAN Newsroom
UPDATED 12:45 PM PT — Wednesday, August 5, 2020
Chaos continues to sweep through Portland, this time at the Police Association building. On Tuesday night, rioters gathered outside the police union hall, where they called for the defunding of police.
According to reports, rioters set fire to cardboard and threw the flaming debris at the building.
"Every city, every town. Burn the precinct to the ground!" pic.twitter.com/6gnsVWvTfA

— Hannah Ray Lambert (@TheHannahRay) August 5, 2020
Local news video showed a driver plowing through an Antifa barricade after rioters slashed the tires of the truck. You can see sparks flying from a motorbike being dragged under.
Watch the moment a driver plowed through the barricade #antifa set up at their riot during the attack on the Portland Police union building. After they surrounded his car & slashed his tires, he sped off. Great video by @Matt_KOIN. #PortlandRiots pic.twitter.com/JIPZEh11pL

— Andy Ngô (@MrAndyNgo) August 5, 2020
Police warned those involved in destructive acts against the police department could be "cited, arrested or subject to force."
Another round of warnings from the LRAD. PPB claims people are trying to break into and climb on top of the Portland Police Association building. pic.twitter.com/Hs0odNZI79

— Hannah Ray Lambert (@TheHannahRay) August 5, 2020
Amid these riots, the federal government has launched hundreds of investigations into anti-government organizations.
Sen. Lindsey Graham (R-S.C.) reiterated the U.S. government has the responsibility to protect federal property. During a recent Senate hearing, he said the nightly attacks on Portland's federal courthouse were only stopped by the presence of federal agents.
He noted the courthouse would have been burned to the ground if not for the intervention of federal law enforcement.
"Being upset with what happened with Mr. Floyd is absolutely all American," stated Sen. Graham. "Trying to occupy a part of a city and turn it into a socialist enclave is not."
He added the Senate expects states to prosecute rioters who hurt officers to the fullest extent of the law. Acting DHS Deputy Secretary Ken Cuccinelli recently confirmed more than 100 federal agents have reported multiple injuries while defending the courthouse.