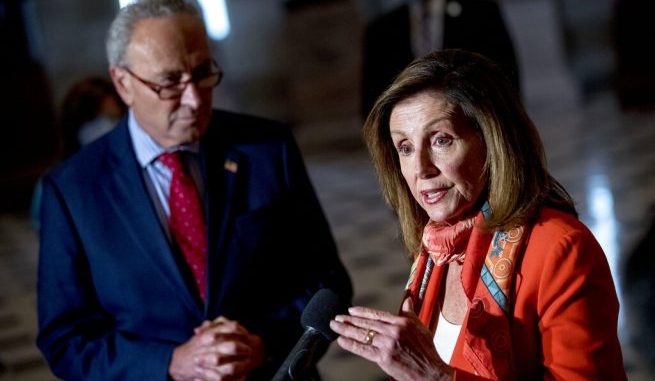 OAN Newsroom
UPDATED 10:36 AM PT — Wednesday, August 5, 2020
Democrats in Congress have said they are making progress on passing the coronavirus relief bill despite polarizing view points.
After a meeting with the White House Tuesday, Senate Minority Leader Chuck Schumer said Democrats went through the bill "issue by issue" to gain a better understanding of each other's positions. Meanwhile, House Speaker Nancy Pelosi said the real negotiations are in the fine print.
"Now leader Schumer and I are legislators with long experience in writing legislation, we know that the devil is in the details and so are the angels," stated Pelosi. "It's very important that we have a complete understanding of each other, of what we are agreeing to."
However, many have been critical of the House Speaker's leadership by saying "time is of the essence" amid the coronavirus pandemic.
Meanwhile, Senate Majority Leader Mitch McConnell also weighed in on negotiations surrounding the next stimulus bill. While speaking to reporters in D.C. on Tuesday, he stressed the bill will be a success because of its impact on Americans regardless of how much support it receives in the Senate.
His remarks came after many Republican senators indicated they do not plan to vote for the bill if the $600 weekly unemployment benefit remains in the legislation.
"If you're looking for total consensus among Republican senators, you're not going to find it," McConnell stated. "What we're hoping for here is a bipartisan proposal negotiated by the President of the United States and his team who can sign the bill into law and the democratic majority in the House that can appeal to a significant percentage of Republicans in the House and Senate."
The Kentucky Republican said he's "encouraging everyone on both sides" of the aisle to reach a complete solution sooner rather than later.