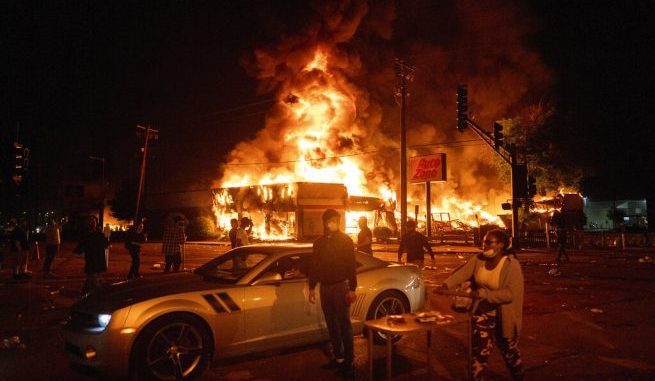 OAN Newsroom
UPDATED 10:28 AM PT — Tuesday, August 4, 2020
Violent crime is surging in Minneapolis and some believe the problem may only get worse as the city's police department faces staffing challenges and increasing calls for its defunding.
More people have been shot in Minneapolis this year compared to the last five. Homicides have also increased with at least 41 reported so far this year. In 2019, there were only 48 homicides total.
"It's a global pandemic; it's the killing of George Floyd; it's the subsequent unrest; its the economic downturn; it's unemployment; it's psychological factors; it's mental health and distress; it's a lack of housing opportunities; it is so many things that ultimately compound," stated Mayor Jacob Frey.
In July alone, there were a reported 100 robberies and 20 carjackings in the third precinct. The  recently sent a letter to it residents regarding the rise in violent crime. It offered tips to prevent robberies like "be prepared to give-up your cell phone or wallet" and if confronted by a violent robber then "do as they say."
"The criminals feel like they can do whatever they want to do," said Rich Walker Sr., Director of the Minneapolis Police Federation. "They know the police department is at a vulnerable state right now with staffing levels and with morale."
Minneapolis police are down at least 100 officers in the last two-months. Among them is over six dozen officers who have taken medical leave for PTSD in the wake of the riots.
According to reports, some MPD officials believe the department could lose as much as a third of its workforce by the end of the year. With fewer officers, many find themselves stretched thin.
"I mean, they're going after the worst of the worst," Walker Sr. continued. "When you have to deplete that unit to put them back on the street to cover the holes left by the cops who were left traumatically affected by the events of memorial Day, it has an adverse reaction."
Reports have suggested Minneapolis may continue to struggle to cope with less officers amid the dramatic increase of violent crime. The city council recently voted to defund the police department and look for alternatives to traditional policing.