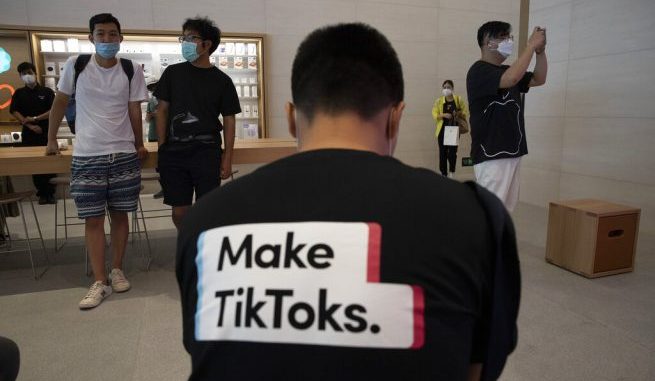 OAN Newsroom
UPDATED 12:34 PM PT — Monday, August 3, 2020
President Trump may not ban the Chinese social media app TikTok if an American company acquires it. During a meeting with tech workers Monday, the president said he will not make a decision on whether to ban the app just yet.
Instead, he will wait 45 days to see if a deal is reached between Microsoft and TikTok. This would allow more time for the computer giant to purchase the video sharing app.
Pres. Trump says TikTok will be banned from the U.S. "unless Microsoft or somebody else is able to buy it and work out a deal" by Sept. 15th. pic.twitter.com/mtKt0NIARv

— Alex Salvi (@alexsalvinews) August 3, 2020
TikTok has been called a national security threat by the White House and other officials as it could share user data with Communist China.
Meanwhile, White House trade advisor Peter Navarro blasted Microsoft amid reports the company is looking to take over the Chinese-owned company's operations in the U.S. In an interview Monday, he called Microsoft a multinational company that's made billions in China and noted the Chinese Army and Communist Party uses it's software.
Navarro suggested Microsoft is in an agreement with the Chinese government in which it must provide any information the Communist Party demands in order to operate in the country. He also accused Microsoft of helping enable China's censorship of it's citizens.
"The issue with Microsoft is this; Microsoft is one of four or five American technology companies — Yahoo, Google, Sysco and others — who helped China originally build their 'Great Firewall of China,' which is used to surveil, track, monitor, sensor and imprison the Chinese people."
Navarro also emphasized their broad inter-agency support for the president's tough approach to TikTok.