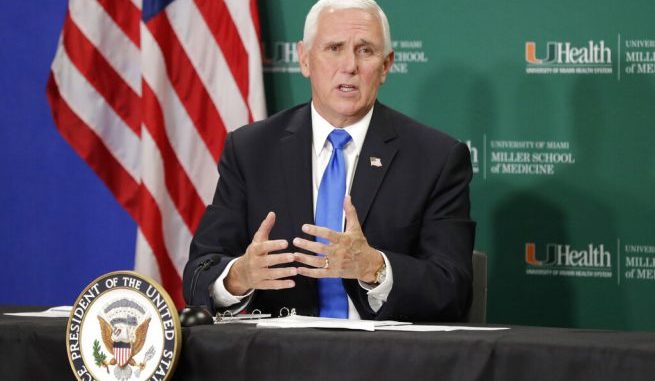 OAN Newsroom
UPDATED 8:47 AM PT — Tuesday, July 28, 2020
Vice President Mike Pence visited Florida to celebrate the first clinical trial in the U.S. for a coronavirus vaccine to reach phase three.
On Monday, Pence made a speech alongside FDA Commissioner Dr. Stephen Hahn at the University of Miami. During his remarks, Pence emphasized the need for the vaccine to be developed quickly.
It was great having Vice President @Mike_Pence and others in Florida today at @UMiamiMedicine to discuss the latest progress on a #COVID19 vaccine and the efforts the @RealDonaldTrump Administration is taking to ensure that our state has everything we need. Thank you @VP! https://t.co/Edm9UfmKad

— Ron DeSantis (@GovRonDeSantis) July 27, 2020
Dr. Hahn thanked the Trump administration for removing "unnecessary barriers" to the development of medical products amid the pandemic. He also noted that even though the process has been accelerated, the administration is not taking shortcuts.
"FDA scientists in our Center for Biologics Evaluation and Research will not cut corners, let me just stress that," said Dr. Hahn. "And although we have gone at significant speed to get to this point, our job at FDA and our solemn promise to the American people is that we will judge based upon the data and upon the gold standard that we have at FDA regarding the safety and efficacy of a vaccine."
This comes as multiple vaccines are currently being developed in the U.S.