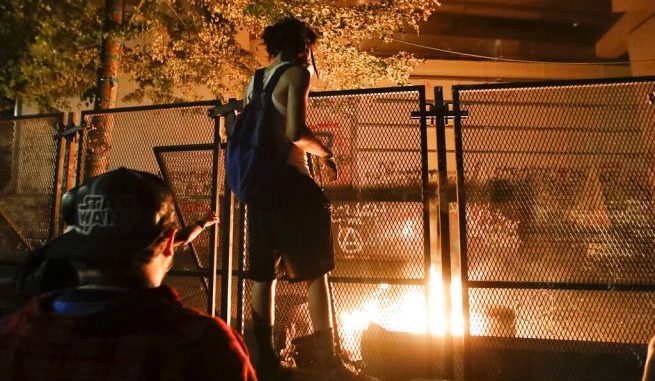 OAN Newsroom
UPDATED 9:24 AM PT — Tuesday, July 28, 2020
A lawsuit has been brought forward against the Trump administration by several organizations representing Portland protesters. The nine-count complaint was filed in D.C. on Monday with the backing of Wall of Moms, Don't Shoot Portland and Black Lives Matter.
The suit claims the federal response to ongoing unrest in the city violates protesters' freedoms of speech and assembly. Moreover, the group claims Chad Wolf's long-term as acting Department of Homeland Security (DHS) Secretary runs counter to the legal requirement for Senate confirmation of federal department heads.
However, the suit doesn't mention acts of violence and destruction of property carried out by protesters over the last two months.
"I assume there is $100,000 worth of physical damage, but we also lost $300,000 worth of property," said Alex Hofberg, president of Portland-based Watchworks Inc.
This is why Trump is sending in Federal troops — this is a Federal Court House the state of Oregon is refusing to protect in Portland. pic.twitter.com/FpPqW5oNoD

— Mark Dice (@MarkDice) July 26, 2020
The administration made no comment in the wake of the lawsuit. However, senior officials have repeatedly defended the lawfulness of the president's order by citing Title 40 U.S. Code Section 1315, which gives federal agents the explicit right to enforce law in protection of federal buildings.