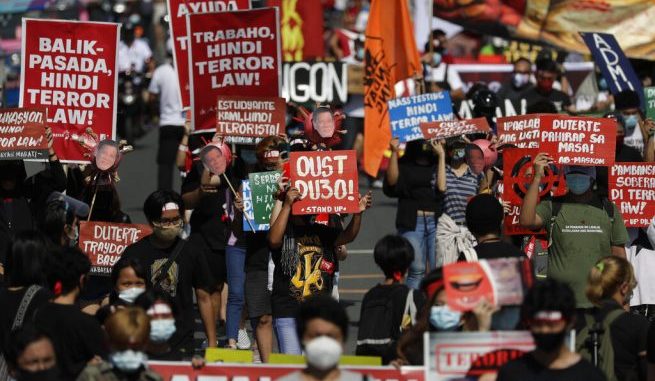 OAN Newsroom
UPDATED 7:54 AM PT — Monday, July 27, 2020
Thousands of people in the Philippines protested against Rodrigo Duterte ahead of his annual speech. Around 2,000 Filipino's defied police threats by continuing to hold a demonstration against the country's president in Manila on Monday.
Key issues brought up by the demonstrators included an anti-terror law, which critics have said is aimed towards Duterte's opponents, and the shut down of a news channel this month. This came after the outlet was was critical of the president.
75-year old Duterte is expected to highlight the actions his administration have taken in the face of COVID-19.
"Some people went out because they recognized the need to be present, to be physically be here in the streets to express their sentiments," stated Renato Reyes, a protest leader. "…There is a pandemic, there is a severed economic crisis, but the government is prioritizing repressive measures like the terror law, the shut down of a broadcast network contributed to unemployment."
Hundreds of people rallied in a protest in Metropolitan #Manila on Monday, ahead of #Philippine President Rodrigo #Duterte's annual state of the nation speech.

FULL VIDEO: https://t.co/EgBxeUSuao pic.twitter.com/7i5uNGTmzy

— Ruptly (@Ruptly) July 27, 2020
The speech will be President Duterte's fifth state of the nation address.