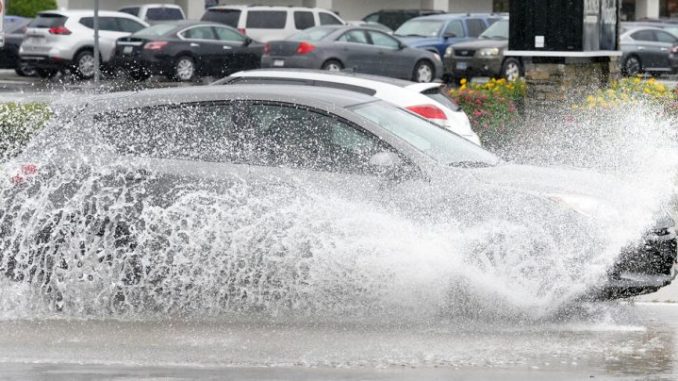 OAN Newsroom
UPDATED 3:40 PM PT — Sunday, July 26, 2020
Severe weather conditions are expected to continue in parts of Texas as the region grapples with Tropical Storm Hanna. The system first made landfall as a Category 1 hurricane on Saturday before being downgraded on Sunday morning.
Hurricane #Hanna is making landfall just 6 mph shy of Category 2 status. @GovAbbott has issued a Disaster Declaration and has requested a Federal Emergency Declaration from @POTUS and @FEMA.

Texans in the path of #Hanna should continue to heed warnings of local officials. https://t.co/PM5tta1gFb

— Texas Division of Emergency Management (@TDEM) July 25, 2020
Its first touchdown was on Padre Island, which is not far from Corpus Christi. It made landfall again near Kenedy County, which is closer to Mexico.
Hanna ripped across the coast, moving west, and topped out at a maximum wind speed of 90 miles per hour.
3:54 pm. In the eyewall of #Hurricane #HANNA in Port Mansfield #Texas. pic.twitter.com/qoIfAxAMcF

— Josh Morgerman (@iCyclone) July 25, 2020
Communities across the Texas Gulf Coast have issued flash flood warnings and preliminary damage reports. More than 180,000 customers of American Electric Power also lost power throughout South Texas.
Governor Greg Abbott has already issued a disaster declaration for 32 counties in an effort to hopefully carry out a speedy response to the fallout.
FEMA has granted Texas' request for Public Assistance Category B in response to damage caused by #HurricaneHanna.

Texans should heed guidance from local officials as the storm continues to move through communities in South Texas.
@FEMA @TDEM https://t.co/OalZVMpE3u

— Gov. Greg Abbott (@GovAbbott) July 26, 2020