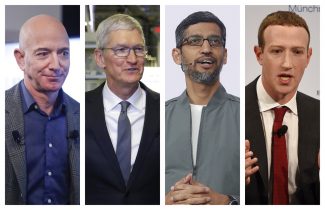 OAN Newsroom
UPDATED 3:05 PM PT — Saturday, July 25, 2020
Ongoing investigations into the antitrust laws that govern Big Tech companies will move forward next week. According to reports, CEO's from Google, Facebook, Apple and Amazon will testify before a House Judiciary subcommittee on Wednesday.
The virtual hearing was supposed to take place earlier this week, but was rescheduled to accommodate John Lewis's memorial service.
The hearing comes amid a probe into current antitrust laws, which will determine if the laws do enough to hold media giants accountable.
Analysts believe the crackdown could affect stocks.
"In terms of the postponed hearing, it just kicks the can down the road," said research analyst Dan Ives. "This continues to be a risk as the drum roll and the Beltway continues, especially that Beltway versus Big Tech battle going forward."
GOP lawmakers are concerned these companies are too dominant and have created a monopoly on the type of information being shared.
"They're run by left-wing Silicon Valley billionaires. They have an unparalleled ability to shape what Americans see, hear and ultimately think. They use that power to silence conservatives and promote their radical left-wing agenda." – Ted Cruz, U.S. Senator (R-Texas)
Conservative groups have been vocal in their criticisms of tech companies, which they believe are purposely suppressing freedoms of speech online.