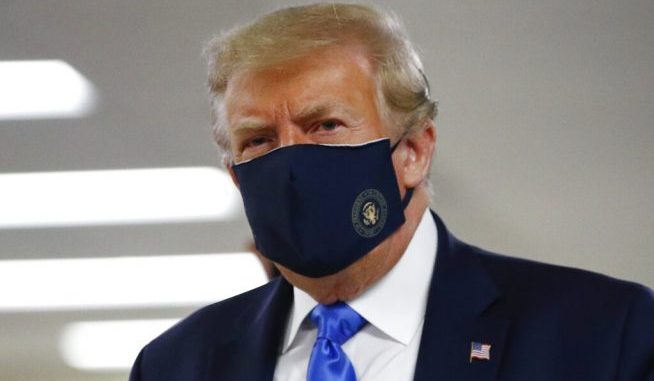 OAN Newsroom
UPDATED 7:24 AM PT — Wednesday, July 22, 2020
President Trump returned to the podium to deliver remarks during his first official coronavirus press briefing since April. While speaking Tuesday, he praised his administration's efforts in containing the spread of COVID-19, but suggested the health crisis is likely to get worse as time progresses.
"Some areas of our country are doing very well, others are doing less well," said the president. "It will probably, unfortunately, get worse before it gets better…something I don't like saying about things, but that's the way it is."
President Trump also encouraged all Americans to wear facial coverings when being socially distant is not possible. This echoed a similar comment he made on Twitter earlier this week when he suggested wearing a mask is patriotic and will help in the effort to defeat the invisible virus.
We are United in our effort to defeat the Invisible China Virus, and many people say that it is Patriotic to wear a face mask when you can't socially distance. There is nobody more Patriotic than me, your favorite President! pic.twitter.com/iQOd1whktN

— Donald J. Trump (@realDonaldTrump) July 20, 2020
"We're asking everybody that when you are not able to socially distance, wear a mask," he stated. "…Whether you like the mask or not, they have an impact…and we need everything we can get."
The president went on to emphasize the importance of younger Americans following safety guidelines to help reduce potential risk of exposure to the virus.
"We are imploring young Americans to avoid packed bars and other crowded indoor gatherings," he stated. "Be safe and be smart."
While speaking on vaccine development, the president assured the administration has learned a lot about the virus and reaffirmed the search for a vaccine is well underway.
"Ultimately, our goal is not merely to manage the pandemic, but to end it," he stated. "We want to get rid of it as soon as we can, that is why getting a vaccine remains a top priority."
"As one family, we mourn every precious life that's been lost. I pledge in their honor that we will develop a vaccine, and we will defeat the virus." pic.twitter.com/OZJWhL9A9t

— The White House (@WhiteHouse) July 21, 2020
"My administration will stop at nothing to save lives and shield the vulnerable, which is so important," President Trump continued.