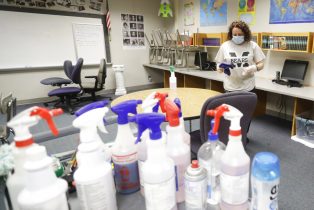 OAN Newsroom
UPDATED 5:50 PM PT — Thursday, July 2, 2020
State governments across the U.S. have shared their plans for starting the next academic school year amid the ongoing coronavirus pandemic. Officials have been challenged with deciding what works for their region, while national agencies outlined different strategies to the public.
On Thursday, Ohio Governor Mike DeWine announced guidelines for reopening K-12 schools this fall, which would allow students to return to classrooms. Guidelines included practicing social distancing, washing hands to prevent spread and implementing a face covering policy.
The governor has expressed the state has an obligation to give children an education.
"I think there's a strong consensus among educators, parents and the public that kids need to get back to school," stated DeWine.
On Wednesday, North Carolina Governor Roy Cooper announced he's putting off a final decision to reopen due to the rising number of COVID-19 cases in his state. School officials were previously asked to prepare lesson plans for both in-person and remote classes, in the event the state of the outbreak changes.
Cooper wanted school districts to take extra time and ensure all measures are in place before setting a date, but he is still aiming to resume classes this fall.
"We want our schools to open for in-person classes in August," he said. "The classroom is the best place for children to learn."
Meanwhile, Michigan Governor Gretchen Whitmer signed an executive order on Tuesday, which called for schools to develop lesson plans of their own in preparation for a possible reopening. California Superintendent Tony Thurmond also confirmed he is making plans, in case the state decides to reopen schools or focus on distance learning.
The flexibility of states to be prepared for multiple scenarios is supported by the leading expert in infectious diseases, Dr. Anthony Fauci. On Tuesday, he urged states not to rush through reopening protocols and stated that final decisions will depend on the status of the outbreak in mid-August.
"Take a look at where you are in the particular area of the so-called "Opening America Again" (plan). Are you at the gateway? Phase one? Phase two? Phase three? The basic fundamental goal would be, as you possibly can, to get the children back to school." – Dr. Anthony Fauci, Director of the National Institute of Allergy and Infectious Diseases
The doctor went on to say reopening schools in person will be possible if state governments take advantage of resources to protect students and keep in mind federal guidelines.