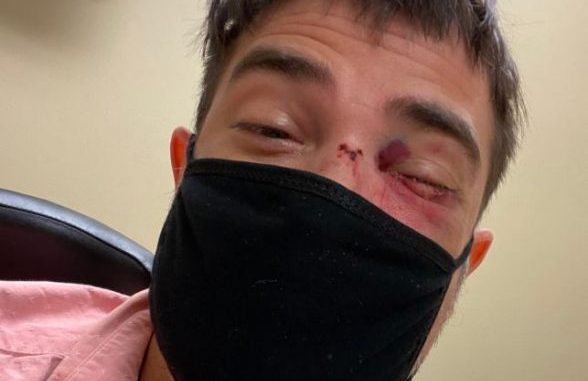 OAN Newsroom
UPDATED 1:50 PM PT — Thursday, June 4, 2020
The ACLU of Minnesota has taken legal action against an alleged police attack on a journalist, who was covering the George Floyd protests. The suit was filed on behalf of freelance journalist Jared Goyette.
He was shot in the face by a rubber bullet while covering the demonstrations in Minneapolis last week.
I want to be reporting. Instead I am getting my eye looked at. Here is me and my patient daughter. She wants me to get an eye patch so I look like a pirate.

PSA: If you are in need of medical treatment and don't have insurance, like me., @OpenCitiesHC is a good place to go. pic.twitter.com/V6YxzLe2lz

— Jared Goyette (@JaredGoyette) May 28, 2020
Several other reporters have been attacked, sometimes on live television, over the past week.
Goyette described the moments leading up to his alleged assault.
"When I got hit in the face by something that came from the police side, it hit me right here in the nose eye area. I was blindsided, I fell hard. People came to help me and eventually I managed to get out of there. I was not as badly hurt as the person that I was focused on earlier." – Jared Goyette,  freelance journalist
When I was hit by a police projectile, an incident that is now part of an @ACLUMN class-action lawsuit against the MPD, I was trying to document what was happing to this man, and the efforts of people like @JaymalGreen to keep him alive. Never got a chance to finish. pic.twitter.com/Bbh71X4VC5

— Jared Goyette (@JaredGoyette) June 3, 2020
The string of incidents has brought into question the relationship between police and the press during these high-profile moments in history. In some cases, officers from departments across the country have been put on administrative leave, pending an investigation.