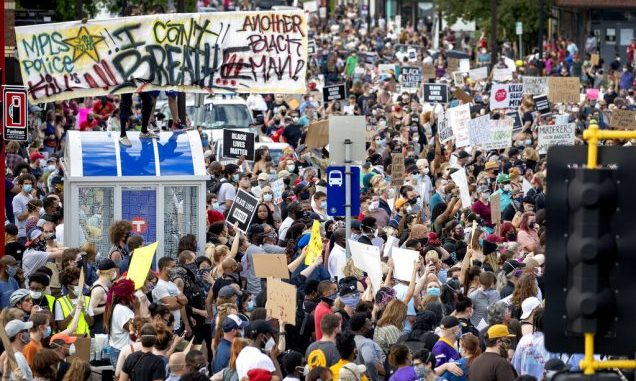 OAN Newsroom
UPDATED 9:00 AM PT — Wednesday, May 27, 2020
Federal authorities are launching a probe into a fatal arrest by four officers with the Minneapolis Police Department. On Tuesday, Minneapolis Police Chief Medaria Arradondo announced calling in the FBI to investigate the death of George Floyd.
Arradondo said initial reports indicated Floyd suffered medical distress after physically resisting arrest, but later evidence pushed him to seek federal assistance.
"It wasn't until later during the evening that there was additional information that I had received, which I deemed necessary to contact a special agent charge of the Minneapolis bureau of the FBI and asked them to come in and conduct a federal investigation," he explained.
On Monday evening, four Minneapolis officers responded to reports of a forgery in progress. Upon arriving to the scene, they identified Floyd who they believed matched the suspect's description. They claimed Floyd was under the influence and physically resisted after being confronted.
Video of the scene shows one arresting officer with his knee pressed on Floyd's neck with the victim repeatedly stating "I can't breath." Floyd was subsequently rushed to a local hospital, where he later succumbed to his injuries.
The FBI and Minnesota law enforcement is investigating the arrest of George Floyd who died after being hand-cuffed and pinned to the ground by an officer's knee.

Four police officers have been fired. pic.twitter.com/eNMwzSMtDt

— Alex Salvi (@alexsalvinews) May 26, 2020
Local officials have criticized the handling of the arrest and are urging authorities to hold the responding officers accountable. Minnesota Sen. Amy Klobachar (D) also issued a statement and called for a thorough investigation into the matter.
My statement on the officer-involved death in Minneapolis: pic.twitter.com/HUoGfXEj7R

— Amy Klobuchar (@amyklobuchar) May 26, 2020
Minneapolis Mayor Jacob Frey describds the situation as tragic, but not representative of the city's principles on law enforcement.
"This does not reflect the values that Chief Arradondo has worked tirelessly to instill," he stated. "It does not represent the training we've invested in or the measures we've taken to ensure accountability."
The four officers involved have since been fired. Meanwhile, all body-cam footage has been turned over to the Minnesota Bureau of Criminal Apprehension who will review the evidence with FBI agents.